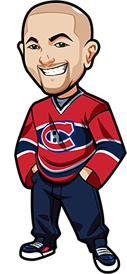 Written by Graeme on Thursday, April 17th, 2014
Follow @BetNHL
Hi guys – Graeme here. And wow – did yesterday ever suck.
I was driving back from Niagara Falls and I noticed I hadn't got any new e-mails in a little while. I then happened to check out BetNHL and oh – it wasn't loading. So I searched on Twitter for our hosts "Hostgator" and discovered about 8 million tweets, all going on about Hostgator being down.
Awesome.
So all of my websites were down from 1pm EST yesterday till about 4am EST today. And many of them are STILL down – great. BetNHL thankfully is back up and running but yeah – that really, really sucks especially on the first day of the playoffs.
We're not ready to do any tips yet, but for now be sure to see our post from yesterday on Round 1 Betting Tips.
We both recommended the Habs and they did the business yesterday. Our prediction of the Pens to take it in 4 or 5(Graeme 4, Scott 5) got off to a good start with the Pens winning. And if you went with "Ducks to win Game 1 and the Series" then that got off to a great start despite the Dallas fightback.
Overall though – wow. Hockey looks to be amazing for the next little while. All 3 games last night were thrillers.
This is a good time to mention to people to subscribe to our NHL Tips over e-mail – then you get the tips delivered to your inbox each day and it won't be affected by any website downtime.
Just insert your e-mail address below – we won't spam or anything like that – you will just get the NHL Tips each day. Any bonuses for you will be INCLUDED within the tips e-mail as opposed to separate e-mails, and sorry to all who tried to access the website yesterday.
Follow @BetNHL
BetNHL.ca » Tonights Tips »