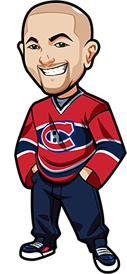 Written by Graeme on Friday, April 10th, 2015
Follow @BetNHL
1-1 last night for a slight profit.
Flames did the business in convincing style, and you really have to wonder how far they can go. Playing the Canucks, I can see the Flames winning that series. Yes, Canucks have experience in the playoffs. But the Flames had no experience for this stage of the season, and they passed with flying colours. Even better – they can play without pressure now, while the Canucks will have a ton of pressure on them.
I haven't fully analyzed it yet, but early thought is taking the Flames in that series.
Tonight we've got just two games. The New York Islanders vs the Pittsburgh Penguins in a massive game. Islanders have beaten the Penguins 3 times out of 4 this season, and that is just a massive game. The other game sees the Buffalo Sabres visit Columbus. Last time they visited there it was in February, and the Sabres came out surprise 4-2 victors.
Let's see what we have tonight:
New York Islanders vs Pittsburgh Penguins:
A massive game, and the Penguins go into it at quite heavy favourites. 1.60 odds, compared to 2.45 on the money line.
I am heavily conflicted on this one.
On the one hand, it's the Pittsburgh Penguins. It's hard to imagine the playoffs without them. And this is a crunch, crunch game. However they've been playing horrible.
But then, so have the New York Islanders. Both teams have had a horrible last two weeks. I honestly didn't realize how bad the Islanders record was till I looked at it.
I think the Penguins probably take this one but you'd expect Islanders to battle well. Not a tip – but if you're betting on it, I'd look at Penguins in regulation at 1.95 odds.
Columbus Blue Jackets vs Buffalo Sabres:
Sabres are 3.90 and the Jackets are 1.27.
I honestly could put up an argument for the Sabres here. They've beaten the Jackets quite recently. They've had a few wins in their last games, and against the Hurricanes they played extremely well and wanted the game.
But you can't argue against Columbus at the moment. They are HOT, and practically no team can stop the Blue Jackets. If Buffalo are the ones to do it then so be it. But every fibre of my being says that I need to tip Blue Jackets -1.5.
Bet at Bovada for Americans and http://www.Bet365.com for everyone else..
Follow @BetNHL
BetNHL.ca » Tonights Tips »