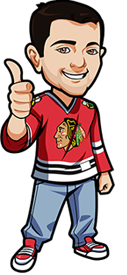 Written by Scott on Friday, April 11th, 2014
Follow @BetNHL
2-1 last night with the tips but it started out looking bad. The Leafs and Panthers game started out slowly with only one goal in the first. But 2 in the 2nd and 3 in the 3rd were enough to push us over 5.5 in the Panthers 4-2 win. We also had the Avs to win and thanks to 3 Colorado goals in the 3rd they did just that winning 4-2.
?
Graeme is back from New Orleans just in time for us to take our family's on a weekend vacation. Once the wives and kids go to sleep each night we will be watching the final games of the season from the bar. And once they kick us out then it's onto watching games on the tablets. Technology. Ain't it great!!
Hard to believe that the season ends on Sunday. But it's been another great year of hockey. There is only one spot left to be determined and that's the final wildcard spot in the West and it's down to 2 teams the Phoenix Coyotes with 87 points and the Dallas Stars with 89. Both teams have two games left and their final game is against each other. I hope that Dallas loses their next game and Phoenix wins theirs so they face each other tied with the winner moving on. If this happens it will be on Sunday. If so we all owe the schedule maker a beer.
And it's pick your poison in the East as Columbus and Detroit are tied for 7th in the East. 7th plays Pittsburgh in the first round and 8th playing Boston. If you are these teams who do you want in the first round? Who do you match up better with and is it worth it to throw the final two games to get Boston?
Islanders vs Devils: Over 5
This is the fifth and final game for these teams with the season series tied at 2-2.
With both teams eliminated from the playoffs this game is more about pride and with it being teams that are so close to one another their will be mixed fans in the stands. These teams will be trying to put on a show for their fans.
With nothing to lose, pride on the line and the winner winning the season series, this has the makings of a goal fest
Bovada for Americans and http://www.Bet365.com for everyone else. has Over 5 at 1.83 odds
Islanders vs Devils: Goal before 9:30
For all off the reasons mentioned above you gotta like there to be an early goal. This will be like these teams game 7 of the Stanley Cup final.
Not much else to say about it.
http://www.Bovada.lv for Americans and http://www.Bodog.eu for everyone else. has this at 1.76
Hurricanes vs Red Wings: Red Wings in regulation
Detroit would love nothing more then to take on the Penguins in the first round in what would be a rematch of the Stanley Cup Finals from both 2008 & 2009.
Detroit has won the first two games against the Canes.
With more on the line in this one you have to like their chances to sweep them tonight.
Plus I don't think anybody wants to have to face the Bruins in the first round this year. It says something when teams are going to be more than willing to take on the powerhouse Pittsburgh Penguins but that's the way it stands.
1.47 for a Red Wings win but 1.80 for a win in regulation time.
Follow @BetNHL
BetNHL.ca » Tonights Tips »