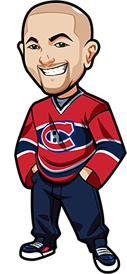 Written by Graeme on Saturday, April 11th, 2015
Follow @BetNHL
We went 1-0 yesterday evening, with our lone betting tip of the Blue Jackets -1.5. As expected – the Sabres battled well, and wouldn't go down easy. It went down to the last 10 seconds, but the Jackets scored and gave us a winning night.
Now we go onto today – the last game of the regular season. And holy boy is it going to be interesting. It's great that every single team plays their final game today.
Let's talk about the Playoff Race.
The big action involves Boston, Pittsburgh and Ottawa, the only 3 teams still fighting for a playoff spot. There are 2 spots up for grab between these teams, and it's going to be absolutely heartbreaking if the Senators don't get there.
Senators sit on 97 points, Penguins 96, Boston 95. For those not sure:
Senators just need to take the game to overtime. Even if the Penguins and Bruins both win, they still would make the playoffs.
Bruins need to win, and then need Senators or Penguins to drop points.
Penguins win, they're in. Of course they could lose and Bruins could lose and they'd still be in.
Ottawa play in the early game, so the situation will be much clearer after that.
There's an awful part of me that thinks the Senators will lose out. How brutal would that be.
Bet wise for those 3 games – there's really not much there. The only one I can say is Boston Bruins to win in regulation. They're 2.40 to win the game, but 3.30 in regulation. That's a nice price. My thinking of that is that the Bruins HAVE to win. They've already beaten Tampa twice this season, and you have to expect they will go out there and beat the crap out of the Lightning. And Tampa, with the playoffs ahead, may let them run all over them to avoid hitting up the playoffs bashed and bruised.
So if Bruins are going to win, they're going to win in regulation. Overtime/shootout is not really something they can consider. They've also beaten the Lightning twice this season.
The only issues – Senators result will already be known, and Penguins start 30 minutes before the Bruins. Great bloody job NHL. That's one where they should have changed it to all start at the same time. Would have been intense. So the ONLY real issue with this bet is if the Sens win, and the Penguins are up 4-0 on the Bruins within minutes.
This is a bet I'd recommend – but I'd wait until closer to game time to see where everything lies.
What else is there tonight? Let's see….
Canadiens vs Leafs: This is the type of game where both teams will be fiery, up for it and pumped. The Leafs have given good games to quite a few teams who you know they'd be up for it – Sens twice, Bruins and Buffalo. Gotta take Over 5 in that one.
Flames vs Jets: The only concern is now the Flames are over the finish line, that they may slow down. They're already looking at debuting a few people tonight. BUT – if they win, they might be able to steal home ice advantage over the Canucks. Going up against a Jets team who they've beaten twice this season already. Flames are underdogs at 2.15 odds which is a nice price – they might just have enough left in the tank for that final push. It's one where I'll personally bet betting Flames in regulation at 2.90 odds.
Stars vs Predators: Just a heads up that my betting system absolutely LOVES this game going over. Similiar to the Flyers pick the other night I can't personally justify it. But when it feels that strongly about a game, I feel it's only fair I mention it.
Now in preparation for the playoffs:
Americans and Canadians: Sign up at FanDuel or DraftKings. I much prefer FanDuel. There are going to be some huge prize pools throughout the NHL Playoffs.
Canadians & Everyone Else: Assuming you're eligible, sign up at Unibet.
Over the next few weeks throughout the playoffs, we're going to steer you guys to different sportsbooks to get signup bonuses and really enhance your bankroll. The Unibet one differs on country – some it will be just a 50% risk free bet, others will be a free bet of like 30 pounds or euros. But it's a decent place to start, and we'll be providing more details on sportsbook bonuses as the playoffs begin.
Now head to Unibet.
Follow @BetNHL
BetNHL.ca » Tonights Tips »