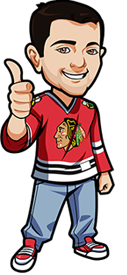 Written by Scott on Friday, April 25th, 2014
Follow @BetNHL
Another 2 win night for us last night and these playoffs just keep getting better.
We had the Bruins to win against the Red Wings and this was a crazy game. The Red Wings scored the first two goals of the game to only have the Bruins score the next two to push the game to OT. But it was Iginla who came through scoring his first goal of these playoffs to give the Bruins the win and a 3-1 series lead heading back to Boston.
Next we had the Sharks vs Kings game to go over 5 goals and surprise, surprise it did just that when the Kings won 6-3. This was a feisty action packed game and one I'm regretting staying up to watch as I'm exhausted from it today. This has been an unreal series with 34 goals scored over the 4 games which is 8.5 goals per game. As long as the line is set at 5 we will be betting over on this series for game 5.
Our loss came from the Wilds win over the Avalanche 2-1 and tied the series at 2-2. Graeme knew this was a risky bet to make. It may not have shown up on the score sheet but the Wild dominated this game and out shot the Avs 32-12. If not for Varlamov this game would have much worse. The Avs should still win this series but they have allowed the Wild to gain momentum and will now have a tougher job of eliminating them in a best of 3 series.
Tonight we have 3 games. The Blackhawks – Blues game #5, Rangers – Flyers game #4 and the Stars – Ducks game #5. And as each night has been so far, we are in for a great night of playoff hockey.
Only two tips tonight. I am going to stay away from the Stars – Ducks game. With Getzlaf missing game 4 and his status uncertain for game 5 I think it's safe to avoid this. If forced to choose id have to go with the Ducks on home ice.
.
Rangers vs Flyers: Flyers Win
These two teams have traded wins leading up to this game. I thought this was going to be a close series and I still do.
Philadelphia gets their their number one goalie back tonight in Steve Mason who makes his 2014 playoff debut. The Flyers will need more than solid goaltending to win this game. They need to have better production from their top line of Giroux, Hartnell and Voracek. They have two points each but only Voracek has been able to score and he's done that only once.
You have to like the Flyers chances in this one with it being at home before heading back to New York for game 5. The return of Mason should give this team a kick in the pants and provide them with some motivation. This series has a good shot of going to game 7.
1.86 odds for a Flyers win over the Rangers at Bovada for Americans and http://www.Bet365.com for everyone else.
Blackhawks vs Blues: Over 5
This has been an incredible series so far and insanely close. The home teams have won each game so far and 3 of the 4 games have needed OT to be settled.
Also 3 of the 4 games have gone over 5 goals: 7,7,2 and 7. So this looks to be yet another high scoring game.
The outcome of this game will greatly affect the outcome of the series. This is gonna be a blast to watch.
1.85 odds for Over 5 goals at http://www.5Dimes.eu for Americans(Need to register to see lines) and and http://www.Bet365.com for everyone else.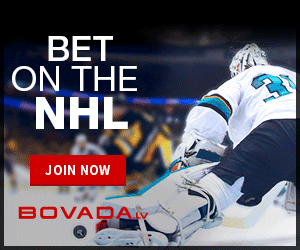 Follow @BetNHL
BetNHL.ca » Tonights Tips »