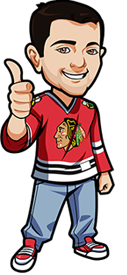 Written by Scott on Monday, April 28th, 2014
Follow @BetNHL
Great night of hockey and a better night for tips.
We went 3-0 yesterday. We had the Blackhawks to win and they did even though they had to play shorthanded 6 times. With the win the Hawks are on to round two where they will play the winner of the Avalanche – Wild series.
The Rangers beat the Flyers 4-2 to continue the trend of these teams trading wins. Rangers are now up 3-2 and head to Philadelphia for game 6.
Lastly we had the home teams -1.5 and the home teams out scored the away teams 13-8. 3-0 night with a combined 5.82 odds
The Ducks beat the Stars 5-4 in OT and move on to round two where they will face the winner of the Sharks – Kings series.
3 games today: Penguins vs Jackets, Avalanche vs Wild and Sharks vs Kings. Pittsburgh, Colorado and San Jose are looking for wins to move onto the 2nd round.
Penguins vs Jackets: Over 5.5
All of these games have gone over 5.5 with scores of 4-3 except the last game which ended 3-1 for the Penguins.
With the Jackets facing elimination and the Penguins wanting to end this series and not have it go to seven games this is a going to be a great game.
Both teams are going to be firing shots at the net like crazy. With Fleury playing so unpredictably, the Jackets will look for any opportunity to shoot. And the Penguins will be trying to score enough goals where they allow their goalie to make a few errors.
Bet over 5.5 goals in the Penguins vs Blue Jackets game at Bovada for Americans and http://www.Bet365.com for everyone else. for 2.15 odds
.
Sharks vs Kings: Goal Before 9:30
Each game so far in this series has had an early goal the latest goal was at 8:09 of the first in the last game. But the rest were all around or before the 4 minute mark of the first.
This has been a great series and I expect this game to be another. And for the Kings after being down 3-0 in this series have stormed back to make it 3-2 and tonight they're at home.
Bet the early goal at http://www.carbonsports.ag for 1.80
Player Prop: Parise over 3.5 shots
With the home teams winning each game in this series I expect the Wild to come out of this with a win. But these Avs are a good fast team who should win the series. And may do so tonight so I'm avoiding that as my tip.
The Wild will be going full speed in this game to try and push it to game 7. The Wild need this win and Parise will be doing everything he can to make that happen.
Bet that Parise will have over 3.5 at Carbon Sports
$25 risk free bets on player prop, in-game bet and $50 risk free mobile bet. Available for NEW customers only at BetOnline.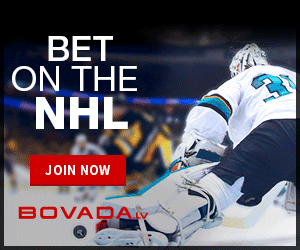 Follow @BetNHL
BetNHL.ca » Tonights Tips »