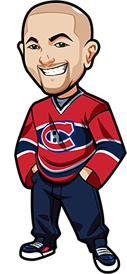 Written by Graeme on Wednesday, April 30th, 2014
Follow @BetNHL
A great day yesterday. Only one game, but my tip was the Flyers in regulation at 2.45 odds. The Philadelphia Flyers did just that, with a hammering of the New York Rangers to force a Game 7.
I'm also particularly pleased because that big Flyers win, coupled with bets on the Clippers -7 and the Wizards moneyline put my bankroll at a whole new tier. Always a nice feeling when you get to move up in betting units.
To quickly explain that as I know people are always curious about bankroll management – I bet in tiers. I'll use a smaller amount as an example:
$1000-$1250 Bankroll: 1 unit = $25.
$750-$1000 Bankroll: 1 unit = $20.
$500-$750 Bankroll: 1 unit = $15.
That's based on a 50 unit bankroll and going with the higher end. If you have a $1000-$1250 bankroll you could go a lot more conservative, and have a unit at $10 for example. If you're just starting out I'd highly recommend that.
I also don't bet multiple units – I don't bet 3 units per game for example. Instead, I bet fractions of the unit. So for example – last night I was very confident about Flyers in regulation. I bet 1 unit on that. I wasn't as confident on the Wizards – Bulls have been playing bad basketball, but you never know with home court. So I bet 1/2 unit on that. Then Clippers – my only thinking was "they will now put everything behind them and unite as a team". So being a weak pick, I went with 1/3 unit on that.
There's your bankroll building lesson for the day.
Recieved a nice e-mail from one of our readers Alex P today that I wanted to share:
Fellas, you are absolute geniuses. You have been helping me grow my bankroll for the past few months and I live by your picks. I am worried now that hockey season is winding down…do you provide tips on any other sports?
Greatly appreciated…keep up the good work.
Thanks Alex. I(Graeme) run a few of my own tips websites – myself and Scott don't run any other ones together at this time, although we will be next season for the NBA I think. I run NBATips.net, WNBATips.com and F1 Betting Tips – the latter site, I just started this season and we've had nice profit in every race thus far. I'll also be starting a world cup betting tips site in May.
Okay – it's April 30th, 2014 and I am PUMPED. I have a flight across the country later today and I scheduled it so I have a 3 hour layover at Toronto airport. You'd think that would be a bad thing but with THREE Game 7s tonight I am PUMPED. Going to hit up the Maple Leaf Lounge, drink me many free beers and watch some awesome hockey.
Let's get to the NHL Betting Tips for April 30th, 2014 and because I'm crazy as all hell, I'm going to try and tackle every Game 7 tonight. Please note that at this point – it is EXTREMELY hard to pick. Game 7s are very special and so me and Scott are both going to offer our separate opinions on each game:
.
Wild vs Avalanche Game 7 Betting Tips:
Graeme: As the regular season ended, I fell in love with the Avs. I've backed them throughout. In a series where home advantage is key, I think you need to go with the Avs to win this one. 1.71 odds for a game that is a nailbiter to say the least.
Scott: He's not 100%, but 50% Duchene is a lot better than 0% Duchene. With him being back that is a big lift to the Avs who have did well at home without him. Now at home with him – and home ice advantage being massive in the West as well as this series – you have to go with Colorado to wrap up Game 7. MacKinnon has been unstoppable at home, and the last game was a lot closer than the score shows with 2 empty netters. Avs to win.
Flyers vs Rangers Game 7 Betting Tips:
Graeme: I sort of like the Rangers here on home ice. But in such a tight series, with the Flyers heavily priced at 2.35 odds – you have to go with that. Value bet on Flyers 2.35 to win.
Scott: Flyers will be carrying the momentum from Game 6 which was played last night, into this one. Last night was their best game by far and they looked fantastic. Simmonds and Mason are both on fire, and Giroux is finally producing which should carry over into tonights game. Lundqvist pulled yesterday is not a good sign – he's off his game.
.
Kings vs Sharks Game 7 Betting Tips:
Graeme: A massive and impressive comeback for the Kings. I'm very conflicted on this one. On one hand – I think the Sharks true skill will shine through, and despite losing the last 3 games I believe they'll do the business tonight. On the other hand – the Kings have won the last 3, have momentum, clearly can win in San Jose, and are the underdogs at 2.2 odds.
It's a heart(Sharks) vs a head(Kings) battle for me. The best value is on the Kings at 2.2 odds. I'm going to chicken out and go with Over 5 goals at 1.9 odds which is an excellent price considering the way some of the games have went, and the fact that it's Game freaking 7.
Scott: The LA Kings would be only the 4th team to come back from being 3-0 down. Momentum is on their side, and the Sharks are shaken up. I mean Niemi didn't even start the last game – the Sharks have lost faith in him and are just a mess. Go with Kings to win at 2.2 odds.
.
Follow @BetNHL
BetNHL.ca » Tonights Tips »