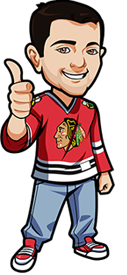 Written by Scott on Tuesday, April 8th, 2014
Follow @BetNHL
Wow if you were looking for an action packed night of NHL hockey with plenty of goals and fights well then last night….. Wasn't your night.
It was a night that saw a total of 5 goals scored between the three games. Our tip of the Devils to win in regulation didn't come through as the Flames won 1-0. My two suggestions for the other games did come through. I said the Wild would beat the Jets and they did winning 1-0. I also had the Ducks to beat the Canucks which was the case when the Ducks won 3-0. With the loss the Canucks are officially eliminated from the playoffs. It will be interesting to see what moves are made in the offseason with the Canucks and are they headed for a full on rebuild?
A much better night if hockey for us tonight with 10 games taking place and some crucial ones as well. The Leafs play the Lightning in a must win game as all of the Leafs examining games are. Flyers vs Panthers where the Flyers can finally clinch with a win. Dallas plays Nashville looking to gain points on the Coyotes who are playing the Blue Jackets. Going to be a great night of hockey and after last nights "action" we all deserve it.
Here are the NHL Betting Tips Tuesday, April 8th
Flyers vs Panthers: Flyers win in regulation
With a win in this game the Flyers would clinch a playoff spot and officially save their year after a pathetic start to the season.
This is the third and final game between these teams with the series tied at a game a piece.
With the injuries to the Panthers and all the Flyers have on the line this game is a no brainer.
Bad odds of 1.57 for a Flyers win but it jumps up nicely to 1.90 for a regulation win.
Take the 1.90 odds on the Flyers in regulation at Bovada for Americans and http://www.Bet365.com for everyone else.
Bruins vs Wild: Bruins win
2nd game for these two with Boston coming out on top in the first game 4-1.
At this point I don't think the Bruins will get beat by anyone but this is a strong a desperate Wild team so anything could happen.
Boston is 7-1-2 in their last 10 while the Wild are 5-3-2. I just can't bet against the Bruins in this one
Great odds for a Bruins win at Bovada for Americans and http://www.Bet365.com for everyone else. of 1.74
Leafs vs Lightning: Leafs win
This is also a great value bet and one I just couldn't pass up on.
We all know the story, the Leafs can't lose. But tonight they take on a strong team and out of their remaining games this will be the biggest test.
But he Leafs are against the wall and will be going all out for a win here. But it won't be easy as Bernier and Lupul are both out for the remainder of the season.
Great odds of 2.66 for a leafs win at http://www.5Dimes.eu for Americans(Need to register to see lines) and and http://www.Bet365.com for everyone else.
Bonus Tip: Grand Salami Over 55.5
With all of the firepower playing tonight and with teams either fighting for or out of the playoffs we gotta go with over 55.5
10 games so each needs to hit 5.5 and one has to go over that for us to win. And after the 5 goals last night it's due to explode.
http://www.5Dimes.eu(Need to register to see lines) has 2.00 odds for Grand Salami over 55.5
Follow @BetNHL
BetNHL.ca » Tonights Tips »