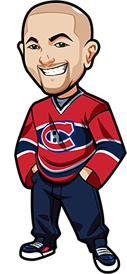 Written by Graeme on Thursday, December 10th, 2015
Follow @BetNHL
1-1 last night for a slight loss. The 3rd period of the Canucks game was what we were hoping for in the whole game. In those 6 minutes we knew that's what those teams were capable of. Unfortunately the other 54 minutes saw them lacking.
Penguins fought off a feisty Avalanche team to get the win for us.
One quick thing I wanted to mention before I get to the tips today: posting your bets in the comments.
We get a lot of comments on the site every day with people posting their bets and so on. We love it. We love interacting with you guys and we're always open to discussion on games we've not tipped etc.
But I can't recommend this enough – when writing out your bets or tips for the day, provide reasoning.
There are two major reasons for that:
(1) No-one cares about your bets. It's true. You're just a voice in the wind. You're a random commentor that's just shown up. Don't worry – it applies to us too! If we only posted tips every day with no reasoning, we wouldn't have a huge a following as we do. However we provide reasoning and show that we've put work into it, as opposed to just picking names out of a hat.
(2) It makes you better. Trust us. Our winrates for NHL are better than they were a few years ago, prior to us having this website. The reason for that is when you are typing a pick out and recommending it to others – it makes you feel more responsible, and you start to think more about what you're writing.
It also encourages discussion, and allows people to point out any flaws or play devils advocate – which makes you a lot better. That's a big part of when we do tips. If one of us feels very strongly about a pick – the other one will then play devils advocate attempting to poke holes in the theory.
I saw a lot of people on the Habs last night for example. One of the first things I said to Scott yesterday was "The Habs have beaten the Bruins the last 7 games they've played" – a stat I know very well because I have a brother in law who is a die hard Bruins fan.
The first thing he says is "Yeah but how many of those were without Price?" and then we go from there – obviously with that trend being a lot less of a factor. And we thankfully stayed away from Montreal.
And that doesn't apply just to our comments too – if you post on forums, on reddit or wherever – provide reasoning.
Trust me – by taking the time to write a few sentences as to why you're picking a team or picking an over/under or whatever – it'll make you a better sports bettor immediately.
Onto todays tips:
Canadiens vs Red Wings Betting Tips:
The Habs are starting to struggle a little bit and are going to want to get a big win tonight against a Red Wings team they've dominated in recent times.
Tokarski is in net tonight, and we like the Over. We had a discussion about another "Sparks situation" – but I just don't see that. It's not like Tokarski has never played in the NHL before and I don't think the Habs will be over protective.
The last few games between the two haven't been super high scoring or anything but I'm hoping for a pumped up Habs team looking for a win against a Red Wings team who see this as a very winnable game.
Over 5.5 Goals.
Canada: 2.30 Odds at 5Dimes.
USA: +130 Odds at 5Dimes.
Everyone Else: 2.30 Odds at 5Dimes.
Lightning vs Senators Betting Tips:
You never know what Tampa team is going to show up. However they're heavily favoured against a very solid Senators team who are great on the road.
Odds alone dictate a bet on Senators win here.
Canada: 2.45 Odds at 5Dimes.
USA: +145 Odds at 5Dimes.
Everyone Else: 2.45 Odds at 5Dimes.
Capitals vs Panthers Betting Tips:
Capitals are one of the best teams in the NHL at the moment. Going against a Florida team who have struggled recently. Florida are a feisty team – but that's usually good for the Capitals. They like a challenge and they'll get one here.
Capitals to win.
Canada: 1.70 Odds at Pinnacle Sports.
USA: -140 Odds at 5Dimes.
Everyone Else: 1.70 Odds at Pinnacle Sports.
Blackhawks vs Predators Betting Tips:
I'm a big believer in team chemistry and having something to play for and the Blackhawks are great in both categories. They looked so good when they had that opening run a few years ago, and now they have the Kane point record.
It's the type of motivation they need and I like the Hawks for the win tonight.
Blackhawks to win.
Canada: 2.15 Odds at 5Dimes.
USA: +115 Odds at 5Dimes.
Everyone Else: 2.15 Odds at 5Dimes.
Flames vs Sabres Betting Tips:
Both teams can score, both teams can concede. Last 4 games of both have went over 5.5 goals. Some key goalie and defense injuries going on as well.
This has to be an Over 5.5 goals bet.
Canada: 2.02 Odds at Pinnacle Sports.
USA: +101 Odds at 5Dimes.
Everyone Else: 2.02 Odds at Pinnacle Sports.
Follow @BetNHL
BetNHL.ca » Tonights Tips »