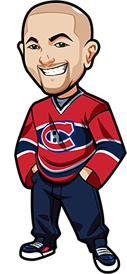 Written by Graeme on Thursday, December 11th, 2014
Follow @BetNHL
An unfortunate 0-1 last night. We had the Oilers vs Ducks game to go over but a couple of nights after picking up their first win in a long time, the Oilers looked like they were napping out there. We were hoping that they would be playing a lot more lively – and Fasth to his credit did well for them – but the Oilers offense went back to their usual pathetic showing.
We have 8 games tonight, for Thursday December 11th, 2014. The game I'm most looking forward to is the Flames vs Sabres. The Flames are starting to struggle, the Sabres are picking up the wins – this is going to be a really fun game to watch and one I'm very curious about the result.
Blackhawks visit Boston to also kick off the night, and the late game sees the Wild vs the Sharks in what should be a tight one.
Let's get to the NHL Betting Tips for December 11th, 2014:
Jets vs Avalanche Betting Tips:
In their two games this season, the Winnipeg Jets have won both. They won back in October 2-1 in overtime, and then they won just 6 days ago in Winnipeg, in a dominating 6-2 victory.
Tonight they play in Colorado.
Jets have been solid on the road recently, with wins over the likes of Dallas, Buffalo and Columbus. Of course Columbus were struggling with injuries at that time, and Buffalo are Buffalo – but their road form is 9-4-3 overall for the season, which is impressive. Bryan Little is on fire at the moment as well – and their whole offense is starting to really contribute. Galiardi being back is a nice boost too.
Avs are struggling and hopefully Varlamov being out won't help them. That 6-2 result was an interesting one – Avs were just exhausted going into that game and it clearly showed. You have to wonder if they can bounce back tonight.
However the 1.90 odds for both teams is very flattering. We think that is a solid price and will be taking the Jets to win including OT/Shootout.
Predators vs Coyotes Betting Tips:
We'll be going with Predators in regulation.
Predators are playing some great hockey at the moment. Rinne gets most of the plaudits but the whole team is playing great and have some great team cohesion going. Moss is back for the Coyotes and they're rested – I'd much prefer to get this one with overtime and shootout, but the 1.62 odds are turning me off.
Rinne isn't confirmed in net yet although is probably and I'd be highly surprised if he isn't. If he's not in we'll send out a tweet if we can.
2.05 odds for the regulation win.
Flames vs Sabres Betting Tips:
For all the jokes made about the Buffalo Sabres – they're pretty damn good at home at the moment. Coming off the back of that fantastic 1-0 win over the Kings, they've also taken the scalps of Tampa, Montreal, San Jose and Toronto in the past month. Their only home loss was to the Jets.
The wheels are slowly coming off the bus in Calgary. It could just be a slight hiccup for sure – but back to back losses and overtime with the beaten up Avs is not good.
We chatted the other week with Sports Interaction and they noted that there will come a time when the Flames start to lose but there's still value on betting against them – we believe this could be that window.
Bet the Sabres to win. 2.40 odds, including overtime and shootout. We'd also recommend a bet on the Sabres to win in regulation at 3.30. Absolutely dripping in value in our opinion.
Follow @BetNHL
BetNHL.ca » Tonights Tips »