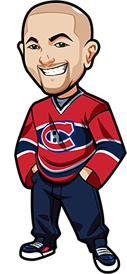 Written by Graeme on Thursday, December 12th, 2013
Follow @BetNHL
Back to business last night as we went 3-0 with the tips. Blackhawks and Flyers went over the 5.5 with ease. Leafs battled well but the Kings proved the better team with a nice 3-1 victory, and in a close one the Ducks managed to get the 2-1 victory.
Lot of hockey tonight. 11 games on the board, in fact. I'll be a bit more concerned about my Fantasy Football team to be honest – in the playoffs and my opponent has the Chargers QB, while I'm busy trying to figure out this whole Broncos RB situation. Lot of big decisions to be made today!
My Habs take on Philly tonight and I'm a tad nervous after that LA game. We beat them early in the season 4-1, but Philly have won their last 5 home games. Granted it was against weak opposition like the Islanders, Sabres and Oilers but still – eek.
I'll be honest with you – tonight, I'm struggling for the tips. Nothing is really jumping out at me, and the last thing I want to do is make tips just for the sake of making tips. I talked with Scott earlier, and I've been sitting here for an hour looking through everything and I'm finding it hard to pull the trigger.
So instead I'm going to quickly go through each game, and offer some brief analysis on it and my thoughts. Then you can use that with your own opinion to make some bets. I do have one official tip with is the Grand Salami under 60.5 available at http://www.5Dimes.eu(Need to register to see lines). That's it for official tips.
Tonight would be the perfect time to take advantage of the WBX Free Bet to minimize your risk. A betting exchange like that is great and if you get into it, you can really make some easy money.
Blue Jackets vs Rangers: I'm personally leading towards the Rangers here. The betting system I use prefers the Blue Jackets, but I think the Rangers match up well against the Jackets. This will be a scrappy game, but I'd take the Rangers. 1.64 odds are very offputting though. You may want to go with Rangers in regulation 2.05 odds at http://www.5Dimes.eu(Need to register to see lines) instead.
Canadiens vs Flyers: Went back and forth on this game so much today. I think I'd go towards goal before 9:30 = No at http://www.5Dimes.eu(Need to register to see lines). After both teams suffering massive blowouts I can see them starting very conservatively tonight.
Sabres vs Senators: I'm going to have a small entertainment bet on Race to 3 goals being neither. 4.20 odds at http://www.5Dimes.eu(Need to register to see lines) and considering their previous matchups, there's value there. I'd also go towards the Under 5 goals – even though I hate betting 5, it's 2.15 odds which is a price price.
Red Wings vs Lightning: This is going to be a close game. Under 5.5 is probably the best value here. If you're feeling ballsy, bet a tie at the end of regulation at http://www.5Dimes.eu(Need to register to see lines) for nice odds.
Leafs vs St Louis: My head says Blues destroy the Leafs here – but just when you count Toronto out, they seem to pull out the big surprise. That's why I can't pull the trigger on the Blues bet – there's something at the back of my head saying the Leafs win tonight. They played well against the Kings, and I'd go with the underdog here. 3.15 odds on the Leafs is a great price, and the WBX Free Bet makes it more appealing.
Stars vs Predators: The battle of the inconsistents. I'd go with the Stars here. 1.95 odds is quite appealing and I think they match up well against the Preds.
Avalanche vs Jets: Avalanche are struggling at the moment, but I'd lean towards their offense having a big game tonight, and beating the Jets.
Hurricanes vs Flames: Flames are playing strong at the moment despite some losses, and you'd expect them to bounce back after a frustrating game against Boston. Carolina are the better team though – although Semin is out still. Man, I could make arguments for both teams here. Gun to my head – Flames.
Islanders vs Coyotes: Remember when the Islanders thrashed the Coyotes 6-1? Yeah me neither, but that actually happened this season. Go Islanders! They had a big win last time out and you have to hope they carry that momentum – sick odds of 2.65 fort hem to win I'd be backing that.
Bruins vs Edmonton: With a line of 5, I think Over 5 is tempting there. Oilers are getting a fair amount of confidence in the offensive line, and with a brutal set of games in front of them, Oilers will be wanting to get everything going. Rask apparently has the Flu too and with so many injuries I could see a fair amount of goals.
Wild vs Sharks: Wild won the last one just 4 day ago. Minnesota have been poor on the road, but they matched up well with San Jose the other day, and I think they can do it again. I'd go with the Wild.
Sorry for no official tips tonight. As I said – head on over and grab the WBX Free Bet tonight.
Follow @BetNHL
BetNHL.ca » Tonights Tips »