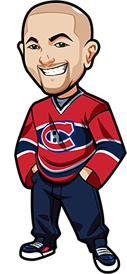 Written by Graeme on Friday, December 12th, 2014
Follow @BetNHL
The bloody Avs cost us a perfect night last night.
Jets were up 3-1 but with 7 minutes left on the clock Iggy and O'Reilly managed to both score and tie the game up. By that point Pavelecs confidence was clearly shot – and when it went into the shootout I knew the result was inevitable. Very disappointing.
Thankfully the other games made for a nice profitable night. We had the Predators to win in regulation and they did that, just dominating the Coyotes.
Then the big one – the Sabres to beat the Flames. We recommended bets on both the Sabres to win(2.40 odds) and the Sabres to win in regulation(3.30 odds).
That was a great game. Flames continued to fight but so did Buffalo, who are fast becoming a BEAST at home. The bookies gave us a gift last night.
Quick Question to our European readers: Is there any websites that allow you to play daily fantasy sports(ideally hockey) that accept people outside of the USA & Canada? FanDuel & Draftkings and pretty much every other one only accept US & Canada. Send us an e-mail if you know of one at betnhl.ca@gmail.com.
For everyone participating in our December contest – just a reminder the leaderboard is here. I try to update it after each nights games. At the bottom of the sheet you can see everyone elses picks by clicking the "2014 Picks" tab.
Quiet night tonight – only 4 games. Seems like the perfect time to do our regular chat with our friends over at Sports Interaction.
For those new to this – we sit down and we talk with Sports Interaction and get their perspective on things. Always a fun read. Tips are below this.
BetNHL.ca: First – the big NHL news. Paul MacLean. Gone. Dave Cameron. In. Thoughts? Everyone going to be betting the Senators from here on out?
Sports Interaction: It's a mythical betting strategy – that a new coach or manager immediately changes things. But it's also a very popular betting strategy that if you look at the stats – just doesn't work out. A coaching change historically does not turn any team from a bad bet into a good bet. It depends on the move, and the team.
BetNHL.ca: We were disappointed with the firing of MacLean. What are your thoughts? Can Cameron turn things around?
Sports Interaction: It's possible – but there's a lot of hard work ahead. Sure it's a changing of the guard – but you have to wonder if it's still going to be that old guard mentality. I mean Cameron came onto the Sens by MacLean – so is it really that big of a change? I do think we'll see quite a few changes such as the top players getting more ice time, and no more healthy scratches which disrupts the team chemistry.
Also the Sens drastically need changes to D zone coverage as well as breakout strategy, and that's what he looks to be changing so that's a good sign. One good thing for Ottawa is they have the goaltending – so if the team can adapt fast enough then it could be good for them.
BetNHL.ca: We were looking at some stats, and the top 4 teams when it comes to puck line profitability are all Canadian. It's Leafs, Jets, Flames then Senators – 4 teams that the bookies continue to underrestimate. Thoughts on that?
Sports Interaction: A lot of that profitability comes from their underdog status – getting the +1.5 and then they match up well with their opponents when they lose. Usually when they're underdogs they are BIG underdogs which makes the +1.5 a solid bet. We think there'll be a bit of value there if they continue to play just below what they're capable of – then we have to mark accordingly. We'd recommend keeping an eye on the Jets – of the 4 teams, we think they are going to be the best value of the 4 going forward.
BetNHL.ca: We were talking about the potential Stanley Cup winners the other day, and checked out Sports Interactions Stanley Cup Winners Odds. Interesting to see a deadlock – Ducks, Penguins AND the Blackhawks. Where's the action going?
Sports Interaction: The Ducks are the team that everyone is betting on. Let's just say we'll be rooting against them come playoff time! They've been strong from the start of the season in terms of betting – and people continue to bet on them. Around the offices, we call the Blackhawks the "sexy team" – they are of course proven champions, and we'll be cheering them on to win the cup.
BetNHL.ca: As always, thanks to our friends at Sports Interaction. These guys are awesome and we really appreciate this input every week – go support them and get a great cash bonus too. Now on with the tips.
Kings vs Canadiens Betting Tips:
After a couple of bad losses, the Kings got back on track with a big win over Ottawa last night. Now they make the short trip to Quebec to take on the Montreal Canadiens. The Habs broke out of their slump on Wednesday with the win over the Canucks – obviously they had some Beliveau-inspired motivation there.
Kings go into this one as slight underdogs though – and I think they'll be motivated after the closing two periods against Ottawa. Subban also has the flu. As far as I know he's playing but he won't be 100%.
I think the LA Kings can sneak the win here. Get on them at 2.10 odds at Bovada for Americans and http://www.Bet365.com for everyone else..
Panthers vs Red Wings Betting Tips:
I'd love to tip the Wings here but I just don't like the odds. And 2.70 for the Panthers is tempting as well – but I just can't bring myself to tip the Panthers here either.
We're going to take Over 5 goals in this game. 1.74 on that at Bovada for Americans and http://www.Bet365.com for everyone else..
Ducks vs Oilers Betting Tips:
Initially I planned on ignoring this game completely – but looking at the odds there is value.
Sometimes I wonder if the bookies even watch hockey. The Panthers, who beat Detroit just 10 days ago on the road, are 2.70 odds. Meanwhile the Oilers – a team who would take "abysmal" as a compliment – are just 2.50 odds. Sure they're at home – the place where they've had like 1 win in their last 60 games. (Not a real stat before people start e-mailing us).
The odds make this a no-brainer. Take the Ducks in regulation. 1.90 odds at http://www.5Dimes.eu for Americans(Need to register to see lines) and and http://www.Bet365.com for everyone else..
Follow @BetNHL
BetNHL.ca » Tonights Tips »