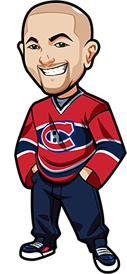 Written by Graeme on Saturday, December 13th, 2014
Follow @BetNHL
A 1-1 night that really should have been 2-1.
The push of the night was the Panthers vs Red Wings. 2-2 at the end of the 1st period and we had Over 5 in that one. Then they had no 2 goalless periods to make that one a push.
For something like that, you may want to consider a sportsbook like Bet365 (Americans: We recommend http://www.bovada.lv, who offer the cashout feature. I find I use that often in sports these days – I'll put 2 units on a bet as opposed to 1, and then cash out for a nice profit.
For example – if you bet $100 to win $75 on Over 5 goals in Panthers vs Red Wings – after that 4th goal, you could probably cash out for about $65-$70 profit. Then even though it was 5 goals and a tie – you've already cashed out your winnings.
It's actually not something I use regularly in hockey. I use it more in soccer when a team has a 1 goal lead with 80 minutes gone, and NFL & NBA when dealing with point spreads – because there are so many garbage touchdowns and points that generally don't matter in the game outcome – but DO affect the point spread. A great example of that was Packers vs Falcons from last week when Packers were 31-7 at the half.
Like I say – with hockey, I won't usually do it. But last night I threw a bet on the Flames to win in regulation over the Penguins at 3.70 odds. I made sure to do that at Bet365 (Americans: We recommend http://www.bovada.lv and if the Flames had taken a lead at the end of a period, I probably would have cashed out dependent on the odds.
In the other games – the Montreal Canadiens unfortunately followed up their win over their Canucks with a big win over the Kings as they look to have their confidence back.
We won with the Ducks in regulation though – and I was feeling REALLY good about that one. We were debating the Ducks -1.5 but rewatched Oilers vs Ducks from a couple of nights ago and felt it was going to be a very tight one. It was, and while Ducks -1.5 covered it was only due to the empty netter.
We have a bloody full night tonight. 13 games on the board. Let's get to it:
Sabres vs Panthers Betting Tips:
I had a double take when looking at the betting odds for this one. Sabres are the underdogs. Granted – Florida have won both games in the past, but Buffalo are beastly at home at the moment, and are on a 7-3-0 run overall. Panthers are coming off a shootout game against Detroit, while Sabres are rested.
Honestly betting Sabres just to win with OT/shootout at 2.05 odds is a good bet. We're going to go for that extra value though – take Sabres in regulation at 2.80 odds.
Avalanche vs Blues Betting Tips:
Their road record has been iffy, and they barely beat the Avs last time they played – but we've loved watching the Blues the last three games they've played. Oshie is looking excellent as well. We're going to go with a rather risky Blues -1.5 tonight. 2.90 odds at that one. 2.00 for regulation time is a good price you may want to take instead – we're personally going with the riskier one.
Flyers vs Hurricanes Betting Tips:
Hurricanes offense is woeful. The only thing we're debating is the handicap or the under. See – if Flyers do what they did against the Devils – where they enter the 3rd with a lead and continue to control the game then great. Problem is they haven't been doing that in previous games.
We'll go with Under 5.5 here. Just not confident the Flyers can follow up like they did against the Devils.
Lightning vs Capitals Betting TIps:
We've won I believe twice before with backing the Over 5.5 in these games – let's go for the trifecta. Over 5.5 goals at 1.86 odds.
Grand Salami:
As is always the case on nights with lots of games – we are by request giving our advice on the Grand Salami.
The line is 71.5 and we like the Under tonight. That's 5.5 goals per game. There's enough games that can bring it out – and only a few that should go over.
You can bet the Grand Salami at http://www.5Dimes.eu for Americans(Need to register to see lines) and and http://www.Bet365.com for everyone else..
Follow @BetNHL
BetNHL.ca » Tonights Tips »