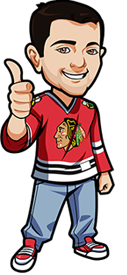 Written by Scott on Monday, December 16th, 2013
Follow @BetNHL
Blackhawks were back to the usual selves last night when the out played the Kings from start to finish in their 3-1 victory. The Capitals beat the Flyers 5-4 in a shootout which was an amazing game. The Lightning managed to shutout the Red Wings 3-0. The Panthers beat the Habs 2-1, that's unreal. All in all a good day of hockey and 24/7 Road to the Winter Classic began last night and if you missed it be sure to check it out. It's a behind the scenes look at the Toronto Maple Leafs and the Detroit Red Wings as they prepare for their upcoming Winter Classic game.
We are half way through the BetNHL dynasty and the standings are all up to date so have a look here Dynasty Standings Page. I have had a rough start to it but Graeme is at the top so now it's personal!!
4 games on tonight for us to watch, enjoy and bet on. The Leafs vs Pens, the Jets vs Jackets, Blues – Sens and the Stars vs Avalanche so some good hockey will be taking place.
4 Games and 2 Tips so let's get to tips for Monday, December 16th
Maple Leafs vs Penguins: Over 5.5 Goals
The Penguins are going to once again be without Evgeni Malkin who is listed as day to day with a leg injury. Joining Malkin are defensemen Kris Letang, Rob Scuderi, Brooks Orpik and forward James Neal who is suspended for kneeing Brad Marchand in the head. The Penguins have the players and ability to carry one without these players. The depth this team has is unreal and as long a Crosby is playing his team has a shot to beat any team in the league evidence by his 5 goal, 5 assist performance in the last 6 games.
The Leafs are coming off of a HUGE upset victory over the first place Blackhawks on Saturday winning 7-3 so momentum is on their side. If they can play even half as well tonight as they did in that game then the goals will not be hard to come by. And as always with the Penguins they never having problems scoring goals.
I'd recommend betting the Over 5.5 goals at http://www.5Dimes.eu for Americans(Need to register to see lines) and and http://www.Bet365.com for everyone else. for 2.00 odds
Jets vs Blue Jackets: Blue Jacket To Win
Both of these teams are falling and fast. The Jackets have been hit by the injury bug and if they can at least stay competitive until they get all of their players back they should be ble to make a run for the playoffs. When your team is missing Gaborik, Horton, Bobrovsky, Wisniewski and more its understandable that your record is going to suffer. But the Jackets have shown that they are capable of playing some winning hockey without them going 6-3-1 over their last 10.
The Jets are going to be missing their best player in Evander Kane so the future looks rough for the Jets as they are lacking the depth that the Jackets have for payers who can pick up the slack when someone goes down. 4-4-2 in their last 10 and play their worse hockey on the road so things don't look good for the Jets tonight.
Bet the Blue Jackets to win against the Jets at http://www.5Dimes.eu for Americans(Need to register to see lines) and and http://www.Bet365.com for everyone else. for 1.76 betting odds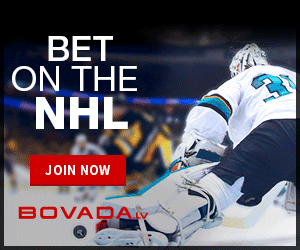 Follow @BetNHL
BetNHL.ca » Tonights Tips » NHL Betting Tips for December 16th, 2013