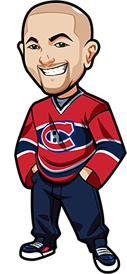 Written by Graeme on Friday, December 19th, 2014
Follow @BetNHL
Well betting tips night, last night sucked. Game wise though, it was a great evening – especially the Kings game. Tips wise:
Leafs: What did I say yesterday? That it just felt like a classic Leafs moment where they get blown out. I said 4-0, they were blown out 4-1. Very annoying. I'd like to say I wish I had gone with my gut, but it's hard to justify betting money on "Classic Leafs". I mean I know they're riding a bit of luck at the moment in their games – but they really should have put this team away.
Penguins: Had them in regulation, they win in OT. 43 SOG in regulation – what can ya do.
Habs/Ducks Over: The funniest thing about that game was the lowest amount of shots were in the 3rd period(5 to Ducks, 3 to Habs) and that's where there were the most goals. Disappointing game, and not that it affected the betting outcome at all – but man some of that refereeing was absolutely horrendous.
Panthers: Florida did the business. Took a shootout to do it, but a nice win there.
We also had the Oilers for a value bet and they looked good for that value, unfortunately not beating the Sharks in a tight one. I did enjoy the Oilers with seconds left icing the puck – why the hell not.
Also for what will probably be the last time in 2014, we're going to sit down with our friends over at Sports Interaction and get their insights on hockey. A regular column usually every Friday – we get the sportsbooks valuable insight on what's going on in the hockey betting world.
Tips are below this.
BetNHL.ca: Yesterday we were talking in the comments of our tips about why the Penguins line wasn't on the board yet – the sportsbooks were waiting to see if Crosby was playing. How big of an impact is Crosby on the odds?
Sports Interaction: Any star player has the potential to affect the betting odds. It depends on the game though – with or without Crosby, the Penguins would be expected to beat the Avalanche so that wouldn't impact it. However we took very little betting action on that game until there was confirmation on whether Crosby would play or not. That's when you also will see drastic line changes.
BetNHL.ca: We noticed Crosby is around +175 to score a goal anytime, and also first goalscorer odds of +525. Quite the high odds for one of the NHLs best.
Sports Interaction: They're high for Crosby – but there are only a select few players in that range. I mean here's the deal – even when he's struggling to score – it's still Crosby. Yeah he's been struggling at the moment – last season he was on average +125 and this season he's usually +150 to +175 per night. To put that into perspective – on any given night, even though they're scoring for fun, Nash and Seguin are at their best +150 to +190. On the flip side, the likes of Stamkos and Ovechkin will be around +100 to +120.
BetNHL.ca: It's a great time for Toronto sports fans. Raptors and Leafs both killing it. Are you seeing a lot of action on the Leafs?
Sports Interaction: Yes, and it's hurting us. Fans are all over the Leafs and they're making a ton from us at the moment. But we expect to win it back. Look at the difference in shots per game – Leafs are getting dominated and we're sure variance will come back and bite them soon.
BetNHL.ca: Stars are an interesting team at the moment, really struggling despite their star power.
Sports Interaction: It's been an interesting ride for those betting the Stars. They're in a better position than a month ago but they're giving up goals like crazy and we can't see them being more than a .500 team. A lot of bettors got hammered early with the Stars as with Spezza and Hemsky, they were backing them like crazy and so many upsets. Now we're seeing prices that are more fair for their quality – but people are generally staying away from backing the Stars. Of course you guys did it 2 nights ago and cost us a bunch – thanks for that!
Betting Tips for December 19th, 2014:
First of all if you're in the US/Canada – with 5 games on the board, it's a great night to go with daily fantasy hockey. Head on over to FanDuel or DraftKings. When it comes to NHL, we personally prefer FanDuel. If you've never played it before it's super easy to get started. Strategy wise the best thing I can suggest is go for a goalie who will get a lot of shots on net but hopefully won't concede a lot! Then pick 2-3 games you expect to be high scoring and pick forwards from those games.
Seriously a lot of fun and it makes the quieter nights a blast.
Right – betting tips wise we're on the Stars. 1.95 odds for them to beat the Flames and based on the way both teams are playing at the moment – that's a great price. Not surprised Flames are favourites though – can see how the bookies would expect them to get the win here. But Stars is a great bet.
We also like the Islanders, and with their shootout prowess we'll be including overtime and shootout in that one as well. They match up well with the Wings, and look to be getting their form going. They're going to be a force soon actually, with both Boychuk and Hamonic returning.
Finally, we're going to take the Ducks. 1.83 odds. They're a bit banged up and just played last night, while the Sens are looking for B2B wins – but we think they have what it takes to get the win tonight.
Now remember – for the ultimate hockey experience go to FanDuel or DraftKings. We play at both and as we said – NHL is probably better at FanDuel we find. USA & Canada only.
Follow @BetNHL
BetNHL.ca » Tonights Tips »