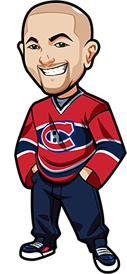 Written by Graeme on Saturday, December 21st, 2013
Follow @BetNHL
Only 4 days till Christmas – yikes, where does the time go? Thankfully I think I've got my Christmas shopping done this year. That's what I love about this generation; the ability to buy so much of what you need online, and avoid the shopping crowds.
The faster time flys the better as me and Scott are going to Montreal on….Jan 11th, I believe, for the Canadiens vs Blackhawks game. Should be good times.
Lot of games today and some early ones, plus I have me some Mars Bars Pancakes cooling off in the kitchen, so let's get to the NHL Tips for December 21st, 2013 so I can go stuff my face.
Please remember when I mention betting odds – I'm usually going with the widely acceptable line, as I know people bet all over the place. You can actually compare betting odds and see what is best – check out our NHL Betting Odds page for that. While having multiple sportsbook accounts may seem like a hassle, you'd be surprised how often betting the best line will turn a losing week into a breakeven or winning week.
Penguins vs Flames: Penguins -1.5
This is an early game today, kicking off at 1pm EST. First time they've played since October 2011. Penguins are deciminated by injuries, but you wouldn't know that based on their amazing run of late. Defensively they're conceding the goals but offensively they're managing to put in more.
Up against the Flames, and I think this is a great matchup for Pittsburgh. The AHL guys are working hard and there is a real flow against the team. Back the Penguins -1.5 at http://www.5Dimes.eu(Need to register to see lines).
Blue Jackets vs Flyers: Over 5.5
These two teams just played 2 nights ago in a 9 goal thriller. The Philly offense is on fire and the Blue Jackets are always good for goals.
That matchup 2 nights ago was excellent – and we're getting surprisingly nice odds of 2.10 on the Over 5.5 I'm with that Back that at:
.
Bruins vs Sabres: Bruins -1.5
If you want to play it safer, go for Bruins win in regulation at 1.57 odds. A bit too low for me though.
I like the Bruins to come out this game like they often do – ready to put in a solid, tight performance. You see that after a loss from the Bruins and the Buffalo one in particular will be stinging.
I like the Bruins to control the game early, ideally shut out the Sabres and stop the Buffalo win streak at 2.
Back that at http://www.5Dimes.eu(Need to register to see lines).
Follow @BetNHL
BetNHL.ca » Tonights Tips »