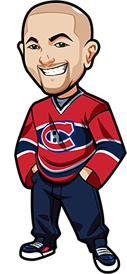 Written by Graeme on Saturday, December 27th, 2014
Follow @BetNHL
Welcome to the NHL Betting Tips for December 27th, 2014.
Hope everyone enjoyed their Christmas break. I enjoyed it by getting pasted in every bloody NBA game on Christmas Day. I'm not an NBA coach but I do think that leaving Westbrook wide open is probably not a smart play. And although I lost the bet – it was nice to see that SOB LeBrons team get destroyed by the Miami Heat.
I also was disappointed in my daughters answer to the question "What were your favourite presents?". She got a truck full of My Little Pony stuff, an ipad, Disney Infinity toys and a million more things. Her favourite presents? "My Senators stuff". Yep we bought her a Senators blanket, toque, t-shirt and jersey and she's just over the moon with it.
Ugh. And if it couldn't get any worse – with me as a Habs fan and my daughter as a Sens fan, my son has finally started taking interest in hockey. And he's like "I think I'll support the Toronto Maple Leafs".
Kill me now.
Thankfully it's back to the NHL as of today, and we've got a big schedule of games.
We'll get to those in a minute. But first – I'm a big trivia fan, and got a ton of trivia games etc at Christmas. One thing I thought that would be cool is if every day, I present to you some daily NHL Trivia. So I've grabbed a random book off my bookcase, and each day will present a daily trivia section. I'll post the question and then tomorrow the answer, and a new question.
Note this book is from 2011 so there's the chance that the trivia could be wrong! Let's get to that, then the tips for today.
BetNHL.ca Daily Trivia:
We'll do two questions today to start us off:
Who is Captain Serious? Nicklas Lidstrom, Dion Phaneuf, Jonathan Toews or Jarome Iginla.
Who holds the record for most regular season wins in an NHL career? Gordie Howe, Scott Sevens, Patrick Roy or Chris Chelios?
Answers tomorrow.
Sabres vs Islanders Betting Tips:
Have to go with Buffalo here. Other than that thumping by the Avs, they have put up some great home form. They're seeing the return of Moulson, McCormick and Weber tonight. Islanders can be a bit shaky on the road – it seems to really depend if you can score the goals against them or not. Islanders are the better team, but 2.70 odds on the Buffalo Sabres to win is too hard to pass up.
Bruins vs Blue Jackets Betting Tips:
Bobrovsky is out for the Jackets tonight. There's no question that he has turned that team around. You have to expect them to fall without him – ideally Bruins get an early goal and the team will just collapse. Bruins are a bit tricky to tip at the moment – the last time they won on the road in regulation was December 6th against the Coyotes. Before that – you have to go all the way back to October 25th against the Leafs. We really want to tip the Bruins to win in regulation – but we'll go with including overtime/shootout at 1.66 odds with the expectation that we'll be kicking ourselves tomorrow for not taking the extra value.
Penguins vs Capitals Betting Tips:
Everyone gets excited at these games due to the whole Crosby vs Ovechkin thing – but really, Ovechkin rarely shows up for them anymore, and the strong team play wins it for the Penguins. They've won the last 8 meetings between the teams.
To their credit, Capitals have had a GREAT month. But they've honestly looked woeful in the majority of these games. We'll take the Penguins in regulation here.
Other Games:
Some betting tips for the other games to save people asking:
Stars vs Blues: Stars were shut out for the first time this season at home to Toronto. Blues shut out against the Avs. One thing we've noticed this season is the prior two times the Blues were shut out, their offense didn't look confident in the next game. We think the Stars have what it takes to get back on track today, and a nice value at 2.55 odds.
Red Wings vs Senators: Despite the changes, Ottawa still haven't shown that they're changing for the better. Going against a Red Wings team with the returning Jimmy Howard – 1.76 is a good price for them.
Lightning vs Hurricane: Last time these two played, it was a goalkeeping clinic by Cam Ward to make it just 2-1 to Tampa. Can he do it again? He will go into this game with confidence, but you have to figure Tampa will hit him fast and furious. We'd take Lightning -1.5 here.
Jets vs Wild: 2.25 on the Jets. Considering they've got more points than Minnesota, and the WIld are without the goalscoring Zucker – that's a great price.
Also – Edmonton has a population of approximately 870,000 people. That's 870,000 people who answered "All I want for Christmas" with "The Oilers to beat the Flames". 2.70 odds, Oilers on the road in the big rivalry game – how do you not throw money on the Oilers to win just for the sheer hell of it.
It's like burning money, but it's a fun bet we'd recommend. And if it loses, blame Santa Claus.
Follow @BetNHL
BetNHL.ca » Tonights Tips »