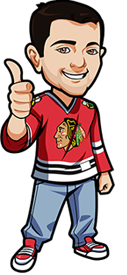 Written by Scott on Sunday, December 29th, 2013
Follow @BetNHL
Another great night with the hockey betting tips as we went 2-1 and all this winning is helping ease the pain of all the Christmas spending. What a close night of hockey last night with half of the games needing extra time to be settled.
First we had the Flyers vs Oilers over 5.5 which was won when the Flyers beat the Oilers 4-3 in a shootout. Next we had over 5.5 in the Blackhawks vs Blues game and we won this one with ease when the Blues beat the Hawks 6-5 also in a shootout.
Our lose came when the Predators beat the Kings 3-2. This game had teams trading goals but the Preds scored with less than 30 seconds left and held on for the victory.
Great day of hockey for us today with 10 games on. The first couple start at 5:00 and the last one starts at 10:30. Best thing is that we can watch the 1:00 NFL games before any hockey starts. What a nice long day of sports this is going to be and by the end of the night my couch and I will need a break from each other.
So let's get to the NHL tips for Sunday, December 29th 2013
.
Penguins vs Blue Jackets: Penguins To Win
This is a battle if 2 teams who have been completely ravaged by injuries. The Penguins currently have: Malkin, Letang, Dupuis, Vokoun, Martin, Scuderi and more missing due to injuries . The Jackets are without; Gaborik, Horton, Bobrovsky, Boll, Calvert and more.
But as the Penguins have shown all year that even without many of their better players they are still more than capable of winning. While the Jackets are on a 2 game win streak I think that the Penguins will be able to come out on top in this one
Bet the Penguins to win at http://www.5Dimes.eu(Need to register to see lines) for 1.76
Hurricanes vs Leafs: Leafs To Win
The Maple Leafs have got to start stringing together some wins and they have to start now. The Leafs came into this season with some new faces and both management and fans alike had high hopes for them. So what better time for them to start a streak then against the slumping Hurricanes.
The Hurricanes come into this game on a 4 game losing streak and also have a -20 goal differential (goals scored for vs goals scored against)
The Leafs could jump into a tie for 5th in the East with Detroit with a win.
Bet the Maple Leafs to beat the Carolina Hurricanes for 1.71 at http://www.5Dimes.eu(Need to register to see lines)
Ducks vs Sharks: Over 5.5 Goals
This is going to be a great game between 2 amazing teams and huge rivals not only by division but also by location.
The last time these teams played was November 30th and the Sharks came out on top 4-3.
The Ducks are just on fire right now. They are on a 10 game winning streak and are tied for first place in the entire league. The Sharks have played fantastic this year also and currently sit in 4th in the West and top 5 in the league.
I like the Ducks to continue their winning streak in this one but whenever they play the rival Sharks anything can happen.
Let's bet that the Ducks – Sharks game goes over 5.5 at for 1.83 betting odds at http://www.5Dimes.eu(Need to register to see lines)
.
Follow @BetNHL
BetNHL.ca » Tonights Tips »