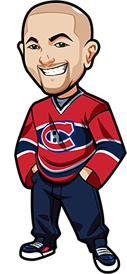 Written by Graeme on Tuesday, December 31st, 2013
Follow @BetNHL
(Our website was down earlier, so we couldn't send these out till now. We posted them on Facebook and Twitter. Although if you don't follow us socially that might be a good thing considering the Panthers vs Rangers current score! Have a Happy New Years everyone!)
Welcome to December 31st, 2013 – the last day of the year. It's been quite the year. I'm not really a fan of New Years – the pubs and bars are usually full of amateur drinkers and they try and hit you up with a cover charge here. Just no fun.
But what I do like is all of the year end shows. Top 100 Sports Highlights of the year, Top 100 Bloopers of the year etc. Gives me sports to watch on TV for a good week!
11 games on board today. Quite the busy schedule. Tomorrow we have the Winter Classic with the Leafs taking on the Red Wings, and the Lightning take on the Canucks later on that night. We'll hopefully have tips for the Winter Classic tomorrow and may even do some live tweeting and Facebooking for it so be sure to follow us on Twitter or Facebook for that.
Panthers vs Rangers: Over 5
These two teams have already had great match-ups this season. In high scoring thrillers, the Rangers have won both – 4-3 at home and 5-2 on the road.
Lundqvist is leaking a fair amount of goals lately, as are the Panthers. Prior to their 4-1 demolition of the Habs they had conceded 4, 6 and 5 goals respectively.
This has been a high scoring match-up in the past and I think with the way both teams play it will be so again. Back over 5 goals at http://www.5Dimes.eu(Need to register to see lines).
Blues vs Wild: Blues to Win
The Blues dominated the Wild last time out. Minnesota are on a bad run at the moment with nothing going their way. I'd lean towards Blues to win in regulation – but Minnesota have kept enough games close lately, while the Blues have 3 straight games that have went to overtime.
2.25 odds for regulation win – but I'd like to play it a bit safer and go with Blues to win 1.74 odds at http://www.5Dimes.eu(Need to register to see lines).
Bruins vs Islanders: Bruins to win in Regulation
Currently 1.7 odds on this one at http://www.5Dimes.eu(Need to register to see lines).
Bruins have had a couple of days off which has allowed their injured team to get some much needed rest. They lost last time out to the Islanders but they've been on a tear at home. Islanders struggled against the Wild who have been poor lately, and it's not been a good December for them.
I like the Bruins, fueled by the return of Chara, to dominate this game. Back the Bruins at http://www.5Dimes.eu(Need to register to see lines).
.
Follow @BetNHL
BetNHL.ca » Tonights Tips »