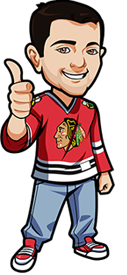 Written by Scott on Wednesday, December 31st, 2014
Tough night as we went 0-1 with two pushes.
We had the Blues to win and for the game to go over 5. Nashville won 3-2. We also had the Kings vs Oilers game to go over 5 and it was the Oilers snapping their losing streak winning 3-2 in a shootout.
The Habs beat the Panthers 2-1 in a shootout and the Canucks beat the Sharks 3-1.
We have a bunch of games on today, 11 to be exact, and also a huge world juniors game. It's Canada vs America at 4:00pm in the world juniors and this is going to be a blast. GO CANADA!!
Our December contest is on its final day and to look at the leaderboard to see how close it is Click Here.
Ok first things first let's get to the daily NHL trivia.
BetNHL.ca Daily Trivia:
Answers from yesterday: Kovalcuk wore #17 in honour of Kharlamov. Kharlamov was a legend back in the day – the Soviets were all essentially robots on ice, and then you had Kharlamov who was creative as all hell, and the things he did with a pick were amazing. And it was 2010 when the hockey hall of fame inducted the first female – or females, as Angela James and Cammi Granato both made it in.
Todays Questions:
What decade was the last decade of a coach sitting on the bench to coach his players during an NHL Game? The 30s, 40s, 50s, or 60s?
Willie O'Ree was the first black NHL player in the 60-61 season. How many years after that did it take for the 2nd black NHL Player? Less than 5, between 5-10, between 10-15 or more than 15 years.
Alright let's get to the last tips of 2014
Maple Leafs vs Bruins Betting Tips
These are always great games and these teams don't like each other and they have a long history being they're are both part of the original 6
The last time these teams played it was the Leafs winning 6-1.
The Bruins would like nothing more then to forget the bad start to the year and move onto 2015. The Leafs are in the same boat. At times they look amazing and others they look like the Oilers.
Over 5.5 for 1.91 betting odds at http://www.5Dimes.eu for Americans(Need to register to see lines) and and http://www.Bet365.com for everyone else.
Oilers vs Flames Betting Tips
Sure the Oilers snapped their losing streak last night but all that means is its time for them to start another one.
The Flames come into this game on a 3 game winning streak. This is also the battle of Alberta so there is more on the line than just a win.
Gotta like the Flames chances in this one and end the year with a win
Flames in Regulation for 1.74 at http://www.5Dimes.eu for Americans(Need to register to see lines) and and http://www.Bet365.com for everyone else.
Grand Salami
With 11 games on its a good night to bet on the grand salami. For those who aren't familiar with it, the grand salami is a number and its up to you to bet on if the total number of goals scored by all teams on the night will be higher or lower then the number.
For today the grand salami is 60.5. So with 11 games taking place we need each game to hit 5.5 to win.
This is the last game of the year for every team so they will won't to end the year with a bang!
With the teams playing tonight there is potential for some games to hit the 7-8 goal range which will help out for the couple that may not reach the 5.5
Grand Salami Over 60.5 for 1.91 at Bovada for Americans and http://www.Bet365.com for everyone else.
Happy New Years to all of our readers
Best America Sportsbooks for NHL
BetNHL.ca » Tonights Tips » NHL Betting Tips for December 31st, 2014