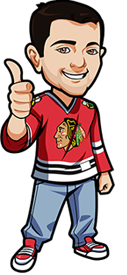 Written by Scott on Sunday, February 15th, 2015
Follow @BetNHL
What a great night of tips last night!
We had the Leafs – Habs game to go over 5.5 but it ended in a 2-1 Habs win in a shootout. 0-1.
We had the Wild in regulation and this was an easy win for us when the Wild beat the Canes 6-3. 1-1. We also had the Rangers in regulation and they beat the Coyotes 5-1 to bring us to 2-1 on the night for the tips.
Then we had the value bets. We had the Jackets to beat the Islanders but the Isles won 6-3. Next we had the Avs -1.5 and they won 4-1. Last we had the Kings -1.5 and they won 3-1. So for the value bets we went 2-1.
So for the night we went 4-2 and that's awesome and a very profitable night.
With a goal last night, the Avs Jarome Iginla now has 578 for his career and has passed Mark Recchi for 19th place on the all time goal list. Ata boy Iggy.
It's Jaromir Jagr's birthday today and he is turning 43. Like him or not, he has had one of the best NHL careers ever and will surely be a first ballot hall of famer. Over his 21 years in the NHL he has 716 goals, 1068 assists, 5th on the all time scoring list, won 5 Art Ross Trophys, one Hart Trophy, two Stanley Cups and a Olympic Gold. Just an unreal career. And he's still playing.
As always on Sunday's we have a nice day full of games. There is 5 games today starting at 12:30 and the last beginning at 8:00.
Blues vs Panthers Betting Tips
St. Louis comes in to this game on fire like they have been for the last while. They're on a 2 game win streak and are 8-2 over their last 10.
Florida has had some success this year but still find themselves in 9th place and 4 points away from the Bruins who hold the final wildcard spot.
This game looks like it will be all Blues. A Blues win with overtime and shootout is only 1.56 so we are going to go with Blues in regulation for 1.83 at Bovada for Americans and http://www.Bet365.com for everyone else.
Lightning vs Sharks Betting Tips
After having a fantastic season up to this point, the Lightning suddenly find themselves in second place in the Atlantic and 3rd in the East. But they're within reach of first place in both.
The Sharks are currently in 2nd in the Pacific but only have a one point lead over the Canucks and Flames which if they pass the Sharks it would put them in the final wildcard spot. But the Wild and Kings are only 2 & 3 points out. Things are going to be interesting from here on out in the Western Conference standings.
With both teams, especially the Sharks, needing wins and points to keep, or better, their position this is going to be a great game.
Over 5.5 for 1.87 at Bovada for Americans and http://www.Bet365.com for everyone else.
Flyers bs Sabres Betting Tips
Even though they have lost three of their last four games, the Flyers continue to earn points that have kept their playoff hopes alive. They are on a 8 game point streak.
The Sabres, who realized their playoff fate long ago, pulled the trigger on a huge deal which saw them lose Tyler Myers and Drew Stafford along with others and a first round pick for Evander Kane and Zach Bogosian. Kane won't be playing this year due to injury.
So the Sabres moving two of their best players means that a bad team got worse.
Going with Philadelphia to continue their point streak and pick up a win in this one
Flyers in regulation for 1.83 at Bovada for Americans and http://www.Bet365.com for everyone else.
Follow @BetNHL
BetNHL.ca » Tonights Tips »