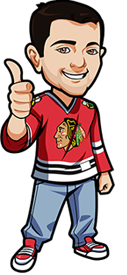 Written by Scott on Monday, February 16th, 2015
Well we managed to go 2-1 last night.
We had over 5.5 in the Lightning vs Sharks game and the Lightning pulled this off almost by themselves winning 5-2. This didn't look great heading into the 3rd period as it as 2-1 Tampa. But the Lightning outscored the Sharks 3-1 in the 3rd to win it for us.
Next we had the Flyers to beat the Sabres in regulation and this was a close one. But with a goal with less then 10 minutes left in the game the Flyers pulled through for us.
Our loss came from our tip of Blues in regulation. They won 2-1 but needed OT to get there.
Hawks squeaked by the Pens winning 2-1 in a shootout. And the Caps beat the Ducks 5-3.
A nice busy Monday for us with 8 games taking place.
Rangers vs Isles will be a blast. Original 6 teams the Habs and the Red Wings square off. Plenty more good games going on so we have a good night of hockey to keep us entertained.
Let's keep the streak going with the NHL Betting Tips for Monday, February 16th.
Bruins vs Flames Betting Tips
The Bruins have underachieved this season. At least by their standards.
The currently hold the eighth and final wildcard spot in the playoffs. This has been a team who has challenged for the lead in the East year after year. But there is still time left and this is a team that you cannot count out.
I think they will go on a tear for the remainder of the season and make the playoffs.
The Flames are a surprise team this year. They're going with Ramo in goal instead of Hiller. Ramo had a great game last time out so they're giving him the start.
But I have to go with the Bruins to win this one
Bruins Win for 1.71 at Bovada for Americans and http://www.Bet365.com for everyone else.
Wild vs Canucks Betting Tips
These teams last played each other on February 9th with the Wild winning 5-3.
Minnesota is chasing the teams in front of them for a wildcard spot. The Canucks are trying gain points to hold off the Flames who have the same number of points ,65, but hold a game in hand.
With the Flames facing a tough challenge in the Bruins, then the Canucks need to win games like this while they're tied.
Canucks Win for 1.80 at http://www.5Dimes.eu for Americans(Need to register to see lines) and and http://www.Bet365.com for everyone else.
Oilers vs Jets Betting Tips
The Jets are a team that, going forward, have gotten better. They now have Myers who joins Byfuglien, Enstrom, Trouba and company to form a strong defensive group.
They have a long way to go to catch the teams in front of them in the Central(Predators, Blues & Blackhawks) so they will look to gain ground on the teams chasing them for the wildcard spot.
When a weak Oilers team is in town, the Jets look at this game as a must win. And I think they will
Jets in regulation for 1.71 at http://www.5Dimes.eu for Americans(Need to register to see lines) and and http://www.Bet365.com for everyone else.
Best America Sportsbooks for NHL
BetNHL.ca » Tonights Tips » NHL Betting Tips for February 16th, 2015