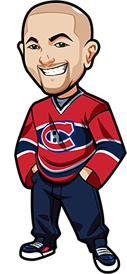 Written by Graeme on Saturday, February 21st, 2015
Follow @BetNHL
A 2-1 night with the NHL Tips for a good profit.
We won with the Hurricanes in regulation. They picked up a 2-1 lead in the first period and didn't look back. I enjoyed Reimer afterwards, saying that this was a game the Leafs could be proud of. Yeah I'm sure all those Leafs players will be telling their grandchildren one day "We almost beat the Carolina Hurricanes". Such a loser mentality.
Our other win of the night was the Rangers -1.5 over the Buffalo Sabres. 14 seconds in the Sabres were up 1-0, and I was all like "eek". But then Rangers ran riot as expected and got the 3-1 win. How bad did you feel for Skapski? Oh man when they scored after 14 seconds I just about cried. Poor guy.
Our lone loss came in the Canucks vs Devils game. That one did seem iffy with that line but it's just hard to ignore those odds. Canucks did look a bit tired for sure – but they were just 1 goal behind with a 2 man advantage at the end there – could have been a different story. But either way – it's a bet that I am proud of!
One thing you should be doing to build your bankroll is bonuses, and I can't recommend 888 enough at the moment. If you're able to bet there, I'd highly recommend it. They are possibly being bought by WIlliam Hill, and they've upped their bonuses like crazy at the moment – probably so they have more active bettors. They've got up to 88 in free bets, as well as a free mobile bet AND they keep e-mailing out free bets every day.
So seriously – get on the 888 train now – Visit 888.com.
Jets vs Leafs Betting Tips:
Until the Leafs show that they have what it takes, we just have to keep betting against them. It's not just that they're bad or that they're losing – it's the way they are playing. Take Jets in regulation at 2.05 odds.
Blue Jackets vs Canadiens Betting Tips:
While the Habs are a better team, out of both these teams one team cares a bit more than the other. The Habs are playing more relaxed, taking it a bit easier and getting the rookies in which is smart at this time of the season. Obviously there's the Price factor but the Jackets are riding a 2 game winning streak over the Flyers and the Penguins coming into this game. Blue Jackets have what it takes, and Blue Jackets to win at 2.75 odds at Bovada for Americans and http://www.Bet365.com for everyone else. is a great price.
Senators vs Panthers Betting Tips:
Senators have had their last 4 games go over,with a lot of high scoring matchups. However Panthers are a lot tighter team, and I think the Senators results lately have helped us in regards to the over – this would usually be 5 goals but it's set at 5.5. Take Under 5.5 goals.
And bet smart with the free bets at http://www.888.com
Follow @BetNHL
BetNHL.ca » Tonights Tips »