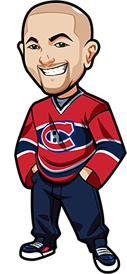 Written by Graeme on Wednesday, February 26th, 2014
Follow @BetNHL
It's February 26th, 2014 and the NHL is back! I hope everyone enjoyed our coverage during the olympics. It was difficult but we were profitable by a nice amount. But really – man, I am glad the Olympics are over.
Every 4 years it's the same thing – I get excited for the Winter Olympics due to "sports all day". Then they come on and…..ugh. Other than hockey and curling I just couldn't give a crap.
At least with the Summer olympics there's not really many sports going on during that period anyway, so it's not the end of the world. But with the Winter Olympics they actually cut off the NHL season. Ugh.
Oh well. We're back now, and it's the road to the playoffs from here on out. Many teams will be fresh, and it'll be interesting to see how the Olympics affect things going forward. Plus – trade deadline time!!! Always an exciting time. Myself and Scott have a bet on whether Jagr will get traded or not – I say no, he says yes – as always, beer and wings are on the line.
For those who participated in our Olympic contest – we're running a bit behind but will get in touch with everyone who won later today or tomorrow at the latest.
Let's get to the NHL Betting Tips:
Sabres vs Bruins: Bruins to Win In Regulation
Great win by Buffalo last night, and there is a slight concern that they will carry the momentum from that into tonights game. But I like Boston to do the business. They were on a nice run prior to the Olympics, and I think they can pick up right where they left off.
Buffalo could surprise us. But despite the win last night, the Hurricanes still dominated them. Buffalo were only able to find 18 shots on goal and only a hot perforamnce from Ryan Miller saved them.
Go with the Bruins for the win at http://www.5Dimes.eu for Americans(Need to register to see lines) and and http://www.Bet365.com for everyone else..
Avalanche vs Kings: Avs To Win
These games are always great and really tight. They've played twice before this season – both in LA – with Colorado winning 1-0 in OT and the Kings winning 3-2 in a shootout.
Kings were on an absolutely HORRIBLE run going into the Olympic Break with 9 losses in their last 10. A break isn't going to resolve those problems. It may help – but there's still a lot of issues in LA at the moment. And if there was hope that Quick would break out of his slump during the Olympics – well, he jumped right back in there against Finland.
Colorado being at home will be big. Their forward line has a lot of depth and despire a couple of injuries and the suspension of Erik Johnson, I like them to get the win here. It won't be easy – you have to expect Doughty to hit the ground running….or is it ice skating? Either way – that's why I'm taking them including overtime and the shootout win at Bovada for Americans and http://www.Bet365.com for everyone else..
Prop Bet: Bruins vs Sabres: Over 59.5 Shots
I'm also going to go with the prop bet of Over 59.5 shots in the Bruins vs Sabres game. I like a lot of shots in this game. In the last two there was 59 and 73 shots. I like Buffalo to make a game of it and keep pushing, resulting in a lot of shots on the net.
You can bet this at Americans: http://www.carbonsports.ag / Everyone Else: http://www.888.com.
Follow @BetNHL
BetNHL.ca » Tonights Tips »