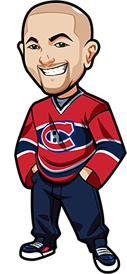 Written by Graeme on Friday, February 27th, 2015
Follow @BetNHL
Well I'm glad you guys have a sense of humour.
Shortly after the Sens beat the Kings 1-0 last night, I happened to look at my e-mail and saw over 30 new e-mails in the space of about 10 minutes, all in reply to yesterdays tips. I opened them up fearing the worst – but it was just people laughing about the fact that I joked the Sens would win 1-0 and yep – they did.
What a crappy night though huh? I mean I've no problem with the Panthers loss – based on everything going into that game I still fully believe it's an +EV bet. But the worst was the Canucks & Kings losses. The reason for that is both were handicap bets. So when you're tipping that, you're not even CONSIDERING the other team winning. You've moved past that, and you're instead thinking "How MUCH will this team win by?".
It was great that I spent a whole paragraph talking about the Sabres, and their inability to score goals. And then they go and score 6 goals. I mean – what? The Sabres have had just 2 other games where they've scored 6 goals in THREE YEARS.
Amazing.
It's been awhile but we're going to check in with our friends at Sports Interaction and have a chat with them. This is a regular feature on here where we get the bookies perspective on things.
Tips are below this:
BetNHL.ca: How are things guys?
Sports Interaction: Could be better. Not our best week when it comes to sports.
BetNHL.ca: Why's that?
Sports Interaction: Last week at UFC – all 10 underdogs won. We took quite the hit – but we also had our biggest payout EVER.
BetNHL.ca: Yikes. How much was that?
Sports Interaction: Someone placed a bet on all 10 underdogs, and the payout was approximately 250,000/1 as it was a parlay. Thankfully he only bet $1 on it – but yeah, that was quite the hit. But it was still really cool to see, and we're happy for the guy.
BetNHL.ca: You're probably as happy about that as we are about the Sabres scoring 6 goals. Well I'm sure it stings a bit – so let's talk about something else. Patrick Kane. A huge blow for the Blackhawks. How is that going to affect the people who bet on the Hawks, or who have bet on them to win the cup?
Sports Interaction: Anyone with a betting slip that has the Blackhawks to win the Stanley Cup can probably tear it up right now. It's going to be very hard for the Blackhawks to fill the void that Kane is going to leave. We've already seen them drop – they were at +600 prior to the injury, and are now +900. They beat the Panthers sure – but give it time, we'll see the real effect that missing Kane has.
I mean really – no team had a 1-2 punch down the middle like the Hawks with Toews and Kane. Now without Kane there to burn them, the defense can focus solely on Toews. Very curious to see what happens with the Blackhawks prior to the trade deadline.
BetNHL.ca: I don't know how many bets I've made with friends in regard to the Flames this season. I fully believe in them, and I have about 20 bets with different friends on whether or not they'll make the playoffs. I say they will. Your thoughts?
Sports Interaction: We don't think so. Yeah they are a team that battle hard day in, day out but this is crunch time. The West is going to be heating up big time with the race for the playoffs now, and we think you'll see them drop after the trade deadline.
I mean they really have very little margin of error anyway, and it's looking like they're trade Glencross which will hurt them. They should still get quite a few wins, but watch them be on the wrong end of a lot of games with a 1 goal difference. Experience is what they are missing.
BetNHL.ca: And finally – last place. Can anyone take it but the Sabres?
Sports Interaction: Nope. Sabres will take it. Yeah they beat the Canucks last night but they're terrible, they've traded away Myers & Stafford and we'll see more going. Gorges is out. Sabres stink.
BetNHL.ca: Thank you very much Sports Interaction. Be sure to get the free bet available at http://www.5Dimes.eu for Americans(Need to register to see lines) and and http://www.Bet365.com for everyone else.. Now onto tonights tips:
Lightning vs Blackhawks Betting Tips:
Tampa come into this after that high scoring loss to the Avs. Their offense has generally been on fire. The Blackhawks are coming into this after back to back wins over the Florida Panthers.
Lightning are such an iffy team to bet at times. A great goalie in Ben Bishop who you can rely on to shut the other team out with 30+ shots – or he will let them in like he's a rookie. I'd love to take the Lightning handicap, but after last nights pounding I'm a bit hesitant. Lightning have a few days rest under their belts, while the Hawks just played obviously.
I think Lightning -1.5 at 3.00 odds is a great price that is dripping in value, and that's what I'll be personally betting. If you prefer the safer bet style where you're going to win more games but at less odds, go with Lightning to win with overtime/shootout. 1.71 odds.
And this is a great time to use the bonus money from http://www.5Dimes.eu for Americans(Need to register to see lines) and and http://www.Bet365.com for everyone else. and bet that 3.00 line. Then you're betting with the bookies money.
Flames vs Islanders Betting Tips:
I do think there's value on the Flames at 2.67. But it's bloody hard betting a team who are most likely going to be 2-0 down with 20 minutes left to play! Whether it's +EV or not it's just not worth the stress.
I'm going to tip Over 5.5 goals in this one. They played in January where the Islanders won 2-1 but Islanders are more open at home, and in that game Halak was a star who stopped the Flames from getting a couple with some great saves.
Capitals vs Hurricanes:
Time for the Capitals to show what they're made of. Two losses to the Flyers and Penguins, it's time for them to bounce back. It won't be easy, but like the Capitals for the win tonight. 1.75 odds at http://www.5Dimes.eu for Americans(Need to register to see lines) and and http://www.Bet365.com for everyone else..
Value Bet: Avs vs Stars
Avs have beaten the Stars in all 4 games this season, including twice this month alone. Avs are 2.20. The only time they played in Dallas it was 3-2 in a shootout – have to go with that again purely for value.
Follow @BetNHL
BetNHL.ca » Tonights Tips »