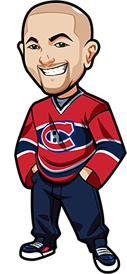 Written by Graeme on Saturday, February 8th, 2014
Follow @BetNHL
Well it's the last day before the Olympic break, and we've got a lot of hockey on board for today.
Before I get into todays tips though, I want to mention that we will have an Olympics Contest with cash prizes and everything.
We will have a post on that tomorrow morning, with all the details of how to enter. The first games in the Olympic hockey kick off on Wednesday at 12pm EST, so that allows a lot of time to get your picks in.
There's also no break in the OHL so we'll also be able to provide OHL Betting Tips during the Olympics break.
Make sure you check back tomorrow for our Olympics contest. Or throw your e-mail in the box below to get an e-mail with our tips, as well as the contest details.
Please note if you have Gmail they like to put our e-mails in the "Promotions" tab.
Alright, it's February 8th 2014 so let's get on with the NHL Betting Tips:
Grand Salami: Over 55.5
This is one bet that I just HAVE to bet regardless of my actual thoughts on the games. We went through historical data prior to previous Olympic breaks, to see if we could note any trends such as players not pushing themselves prior to the Olympics, underdogs winning etc.
One trend that stuck out was goals. Lots and lots of goals with almost every game having at least 6 goals in it.
So whether or not you believe that hockey results from February 2006 have any relevance today – after seeing that stat, I just need to bet it. That's the sole reason for this bet – I haven't even looked at the games today or anything. I'd just be kicking myself if I didn't tip it.
You can back Over 55.5 goals today, aka the Grand Salami, at http://www.5Dimes.eu(Need to register to see lines).
Home Goals vs Away Goals: Home -2.5
Another bet covering all the teams today, and available at http://www.5Dimes.eu(Need to register to see lines). I like a lot of the home teams today. Philly, Boston, Carolina, Dallas….even the LEAFS! I must've put too much Baileys in my coffee this morning.
For this one we're betting at the end of the night, the home teams goals scored will be at least 3 more than the away teams goals scored.
Back that at http://www.5Dimes.eu(Need to register to see lines).
Leafs vs Canucks: Leafs to Win In Regulation
I can't think of the last time I actually tipped the Leafs to win a game.
Last time they played was in November, where the Canucks hammered the Leafs 4-0. What's funny is I actually tipped the Leafs on that game – I remember that one as they were on a roll, and sick 2.5 odds. And of course – hammered.
Don't burn me again Toronto.
Vancouver are going into this one on a bad run. They're pretty much done for the moment – and looking forward to the break where they can reinvigorate themselves and get things going again. Henrik Sedin is of course out as well.
Toronto have a lot of road games coming out of the Olympics, and they'll want to finish before the break at home on a high note. Bernier has been amazing at the moment, as has Bozak.
Have to go with the Leafs here. 2.10 odds in regulation at http://www.5Dimes.eu(Need to register to see lines).
Follow @BetNHL
BetNHL.ca » Tonights Tips »