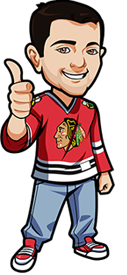 Written by Scott on Friday, February 28th, 2014
Follow @BetNHL
Yet another crazy night of action and the karma gods are still punishing Graeme for doing that unspeakable thing to a chicken years ago as we went 1-2. And it's a fun time to watch the hockey ticker with the NHL trade deadline fast approaching. Will your team add a piece or sit back and ride what they have?
With news coming out that Tampa Bay's ageless wonder Martin St. Louis may have requested a move out of Tampa how do you think he performed? Ya that's right he goes out and scores twice in the Lightnings 3-2 loss to the Predators. Gotta love the drama coming from Tampa Bay. First Marty is left off of team Canada by his own GM only to be a injury replacement then the first game after the Olympics scores twice. The most important player in the last 10+ years for the Lightning may be moving on and I know the Blackhawks would gladly take him as would the rest of the league.
Also watch out for the Dallas Stars. With the exception of Jamie Benn playing some significant minutes in the Olympics, the Stars are rested, young and ready to make a hard push up the Western Conference standings and have the team to do it. Last nights 4-1 win over the Hurricanes was a great start
Winter Olympics Hockey Contest:
We want to thank everyone for participating in the Olympics hockey contest.
The contest is now over. The prizes were:
1st: $100 at Sports Interaction
2nd: $50 at Sports Interaction
3rd: $25 at Sports Interaction
The top people were:
1st: Chris L
2nd: Simon E / Brian B.
2nd is a tie. However rather than a tiebreaker we'll just give $50 to both participants because we're awesome like that – congrats guys.
We will contact the winners over the weekend. However if you participated please double check we got all your scores right. We'll give you until Saturday night just to make sure there are no issues, then we'll contact the people on Sunday and all scores are final. Click here if you want to check. You can click the "Player Picks" sheet to check it all.
Let's get back to winning with the NHL betting tips for Friday, February 28th
Sharks vs Sabres: Sharks -1.5
After last nights game, a 7-3 ass kicking over the Flyers, the Sharks are ready to make their final push towards home ice advantage in the playoffs. The Sabres are getting ready to dump what little talent they have on their roster and look towards the future. This year is a write off for Buffalo
With Logan Couture not only back from injury but scoring twice in his return the Sharks have their number 1/2 center back. Against a horrible Sabres team this should be yet another blowout for the Sharks
Back the Sharks -1.5 at Bovada for Americans and http://www.Bet365.com for everyone else. for 2.65
Sharks vs Sabres: Over 5 Goals
The last time these two teams played the Sabres were able to upset the Sharks 5-4 in a shootout. With this being the last time these teams play each other this year you know the Sharks will be looking to even the series.
After last night's performance you know the Sharks are going to be putting plenty of goals on the board
Bet the Sharks vs Sabres game over 5 goals at http://www.5Dimes.eu for Americans(Need to register to see lines) and and http://www.Bet365.com for everyone else. for 1.76
Blues vs Ducks: Goal before 9:30
This is the game of the night by far between the 2 best teams not only in the Western Conference but the entire NHL.
It wasn't long ago that Getflaf and Perry were teammates of Pietrangelo and Bouwmeester but its back to business for these guys after claiming gold in the Olympics.
This is the third and final meeting between these two teams with the Ducks winning the first two; 5-2 and 3-2. The Ducks haven't played a game in 20 days which could help or hurt them depending on how you look at it.
This is a tough game to predict but if history has shown us anything it's that anytime these teams play each other there is an early goal. Game one took 1:10 for a goal while game two took 5:30. Both teams will be looking to grab an early lead in this game.
Bet a goal before 9:30 of the first at http://www.carbonsports.ag for 1.76 betting odds
Follow @BetNHL
BetNHL.ca » Tonights Tips »