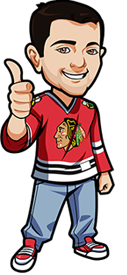 Written by Scott on Friday, February 7th, 2014
Follow @BetNHL
1-2 last night with the tips but at least our one win came with good value.
First we had the Jets to continue their unbelievable play and beat the Capitals but 3 unanswered goals in the third was enough for the Caps to come out on top 4-2. Next we had the Blue Jackets to beat the Kings but they lost 2-1 in OT. Our win came from the Habs victory in regulation against the Canucks winning 5-2 for 2.10 betting odds.
And good luck to Kris Letang. It was just announced that he will miss at least 6 weeks as he suffered a stroke. Scary stuff and let's hope he makes it through this ok.
WE NEED FEEDBACK!
We're setting up a contest for the Olympics with cash prizes and free bets. You will be able to pick a fantasy team of 1 G, 2 D and 3 F.
We're just trying to figure out the points system. All feedback is welcome. Want to keep it simple and so far we have:
G: 1pt win, 2pts shutout.
D: 1pt assist, 2pts goal.
F: 1pt assist, 1pt goal.
Any suggestions are welcome if you like that, or have any other ideas. Either e-mail us betnhl.ca@gmail.com or post in the comments below. Thanks guys.
A nice Friday of hockey for us with 5 games on it's also the 2nd to last day of action before the Olympic break so let's get to the NHL tips for Friday February 7th
Rangers vs Penguins: Penguins to win
This is the 4th and final game between these 2 teams this year with the Penguins leading the series 2-1 after the Rangers took the first game.
The Penguins have been amazing this year at home with a home record of 23-4.
And with the news that Letang is out for a while the team will for sure try to win one for him. And who would want to face a Penguins team that will be going all out for one of their teammates? Good Luck Rangers
Bet the Penguins will win this game for 1.60 betting odds at http://www.5Dimes.eu for Americans(Need to register to see lines) and and http://www.Bet365.com for everyone else.
Blackhawks vs Coyotes: Blackhawks to win
The third and final game between the Blackhawks and Coyotes with the Hawks winning the first 2; 5-4 in a shootout and 5-2 in the second game.
With a victory in this game the Hawks would reclaim first place in not only the Western Conference but overall in the NHL. The Hawks would love nothing more than to head into the break with first place secured knowing that sending 10 players to the Olympics can really fatigue a team.
Another factor is that Marian Hossa may be playing the best hockey of his already amazing career. Underrated player but just a beast!
Bet the Hawks to beat the Coyotes and sweep the season series at http://www.5Dimes.eu for Americans(Need to register to see lines) and and http://www.Bet365.com for everyone else. for 1.80 odds
Blue Jackets vs Sharks: Sharks in Regulation
This is the first of 2 meetings between these two clubs this year.
With a home record of 21-4-3 the Sharks play by far their best hockey in San Jose while the Jackets only win around 50% on the road.
The Jackets played last night in a hard fought battle that needed overtime to be decided so fatigue is going to play a part in this one.
Although both teams have played well in their last ten games we like a rested Sharks club to dominate this game.
Bet the Sharks to win in regulation at http://www.5Dimes.eu(Need to register to see lines) for 1.90 betting odds
OHL Betting Tips for February 7th, 2014:
Remember you can only bet these at BetOnline..
Graeme likes the London Knights(1.28) and Sault Ste Marie Greyhounds(1.42). He also likes the Guelph Storm(1.14). All in regulation.
Put all of these in a treble to get 2.07 odds.
Back that at BetOnline..
Follow @BetNHL
BetNHL.ca » Tonights Tips »