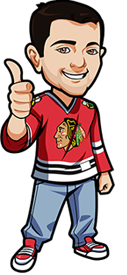 Written by Scott on Friday, January 10th, 2014
Follow @BetNHL
Yet again another winning night with the NHL betting tips as we went 2-1.
First we had the St Louis Blues -1.5 against the Flames and we won easily, we would have won even if the spread was -4.5 in the Blues 5-0 win. The Blues are scary good right now; they are on a 7 game win streak and are 9-0-1 in their last 10. Next we had Over 5.5 in the Leafs – Hurricanes game and we won from the Hurricanes alone in their 6-1 thumping of the Leafs. The Leafs struggles continue as they are on a 3 game losing streak and have given up a horrible 18 goals during this streak. The Leafs have given up the 3rd most goals in the East and 6th most in the league and need to fix this problem and fast. Our loss came when we tipped under 5 goals in the Bruins vs Kings game which ended in a 4-2 win for the Kings.
A couple other notes from last night's action: The Ducks also won last night and have now pushed their winning streak to 5 and Justin Fontaine scored his 1st career hat trick in the Wilds 4-1 win over the Coyotes.
6 games scheduled for today and a few that should be great games. The struggling Maple Leafs are in Washington to take on the Capitals, the Penguins vs the Oilers has mismatch written all over it and the Blues look to push their win streak to 8 games against the Vancouver Canucks.
This weekend, check out Carbon Sports. United States friendly, they're offering a 25% to $250 welcome bonus and a $25 Free Bet on your mobile device. Click here.
Maple Leafs vs Capitals: Score In The First 10 Minutes = Yes
The Leafs are giving up way to many goals lately and things don't look any better for tonight's game when Alex Ovechkin and the Capitals welcome them to town.
The Caps can score goals but so can the Leafs and the Leafs are bound to turn things around at any moment. They may win tonight but there is going to be goals put up on the board. I expect an early goal for a couple reasons. The First being that the Leafs need to start winning games and what better way to take control of a game then to score the first goal early. The second reason is that Ovechkin is a freak and scores goal at a ridiculous pace. I hope the Leafs pull out a win in this game but you never know which Leaf team is going to show up each night.
Bet that a goal will be scored before the 10 minute mark of the first period at Carbon Sports for 1.70 betting odds
Penguins vs Oilers: Penguins To Win in Regulation
This is really a no brainer. The Penguins vs the Oilers is a huge mismatch as it's the first place Eastern Conference Pens vs the last in the West Oilers.
The Penguins have all of the superstars back and scoring and have beat their last 3 opponents the Canucks, Jets and Rangers scoring 16 goals in those three games.
The Oilers have won one game (Tampa Bay) in their last 6 and have given up 28 goals over that stretch. To bet a regulation win you place it through the NHL 3 Way Line betting option
Bet that the Pittsburgh Penguins will win in Regulation for 1.77 odds at Carbon Sports
Player Prop: Phil Kessel: Over 4 Shots
Another cool betting option at Carbon Sports is the ability to bet on if a player will have over or under a certain amount of shots during a game.
For tonight's game we are going to bet on Phil Kessel taking more than 4 shots. As mentioned above, the Toronto Maple Leafs are in desperate need of wins. Phil Kessel is the Leafs best player so he is counted on to not only score goals but also put up a crazy amount of shots in the process.
By betting that Phil Kessel will go Over 4 shots all we need is for him to do just that; Shoot the Puck. If he gets zero points but 6 shots, then we win this bet.
This is a great way to bet on Hockey as it not only has you rooting for a team but for a certain player on that team.
Bet that Phil Kessel will have over 4 shots at Carbon Sports for 1.83 betting odds. You will find this betting prop under the NHL Player Props option
Follow @BetNHL
BetNHL.ca » Tonights Tips »