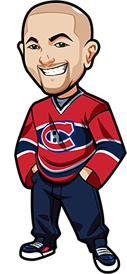 Written by Graeme on Wednesday, January 21st, 2015
Follow @BetNHL
One more day then we are off on the All Star break. Team Towes takes on Team Foligno on January 25th, and we'll be scouring the sportsbooks for any bets we can make during All-Star weekend like the degenerates that we are.
The most noteworthy game last night was the Oilers, who trailed all game but made an impressive comeback against the Washington Capitals, and squeaked out the victory. Can't decide if it is the Oilers getting their shit together, or the Capitals self-destructing. Either way – congrats to the Oilers for the big victory.
Love that loss we had last night in the Penguins vs Philly game. 75 shots and over 90 penalty minutes? Sure that'll go Under 5.5. Why not.
Tonight is January 21st, and we have 6 games on the cards. The big one of course is the Battle of Ontario between Toronto and Ottawa. We also have the Blackhawks taking on the Penguins, and end the night with the Kings vs Sharks. Should be a good night of hockey.
If you've not tried it yet, tonight is the perfect night for our American & Canadian friends to check out DraftKings and play some fantasy hockey. 4-6 games is when you want to play as it makes your decisions that much easier. Give it a try – we play it every freaking night and just love it.
Alrighty – let's go onto the all star break with a nice winning night:
Senators vs Leafs Betting Tips:
Usually we keep our biases out of the betting tips, but this is a game and rivalry that we both love, and we practically blindly bet on Over 5.5 goals every time as it's always got the capabilities to go Over.
There are a lot of interesting things going into this game. Sens are currently the better team based on form, but form doesn't really matter going into a game like this. Reimer should be in net and he's got a really good record against the Sens. Leafs also have a good record in Ottawa.
But then – while form really doesn't matter; look at the way the Leafs have been playing. It's pitiful, it really is. And honestly it's not just during this losing streak – even when they were winning, you could tell a lot of the games they were lucky. They weren't outplaying or outworking their opponents at all.
We'd say if you want to bet either team, bet the extreme. Based on the form of both, Sens handicap is nice at 2.95 for -1.5. But then you may want to go the other side knowing the Leafs record – in which case we'd recommend Leafs -1 at 3.25 odds.
We're going to be backing over 5.5 goals at 1.95 odds and sitting back with a few beers to enjoy.
Bruins vs Avalanche Betting Tips:
Avs return home after a very weak road trip results wise. However it was a difficult road trip too. Johnson is playing tonight, and Varlamov is in net.
Bruins have Marchand back.
The Avs playstyle generally works well against the Bruins. It'll be a tight game, but with one extra night to rest, we think the Avs have what it takes to beat the Bruins tonight. Bet the Avs to win at 1.95 odds.
Penguins vs Blackhawks Betting Tips:
Despite the stellar offenses both teams have, the rare meetings between the teams haven't went Over the 5.5 goal mark that often. However we think that changes here, and will take Over 5.5 goals for 2.05.
Both teams are leaking goals like crazy at the moment, while putting them up themselves. It's been a rocky month for both teams and while the meetings between them both last season were poor(both dominations) we like this one to be more competitive.
Follow @BetNHL
BetNHL.ca » Tonights Tips »