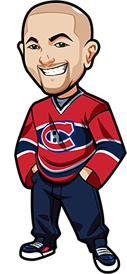 Written by Graeme on Wednesday, January 27th, 2016
Follow @BetNHL
Yesterday was a fun reminder of the variance in hockey.
We had the Blackhawks to win. Actually almost everywhere you looked – people were tipping the Blackhawks. On other tips sites, on forums, on Twitter etc. Even in our own comments – people tipping the Hawks to win -1.5, people tipping Hawks in regulation etc.
Chicago get absolutely thumped 5-0.
Sometimes it's variance – sometimes it's just something that you missed. Always good to go back and look at a game like that and think "could I have bet that differently? Did I miss something?". Sometimes it just IS variance – but it can be a good learning experience. Although it's also a bit more difficult looking at it having already known the outcome.
Thankfully we won the other 2 bets for a winning night. We had the San Jose Sharks to win in regulation and they easily did that with a thumping victory. We also had Over 5 goals in Ducks vs Bruins and the Ducks went over that on their own with a crushing 6-2 victory.
Hopefully we can continue our nice run going into the all star break. We'll do some betting tips articles for this weekend for sure – just have to wait and see what betting opportunities there are.
Lightning vs Leafs Betting Tips:
Both Tampa and Toronto are coming off thrashing from the Panthers with 5 goals conceded each.
Tampa can be fairly inconsistent at home. Well – they've been inconsistent all season. However one thing that has stood out is when they win at home, the majority of the time it's by at least 2 goals.
After the Leafs performance last night it's hard to see them be up for this game. Leafs HAVE been up for a lot of Lightning games in the past and these two usually battle well.
I'm going to take two bets in this game. Over 5 Goals and Lightning -1.5.
Canada: 2.25 Odds for -1.5, 1.80 odds for Over 5 at Bet365.
USA: -120 for Over 5 at BetOnline.., +125 for -1.5 at GT Bets.
Everyone Else: 2.25 Odds for -1.5, 1.80 odds for Over 5 at Bet365.
Capitals vs Flyers Betting Tips:
The only real negative is the Capitals are coming off a long break. It's been 8 days since they last played on a 6-3 game vs Columbus. Have to be concerned about them being rusty.
Flyers will be up for this game but man – Washington are just a beast at home. We're getting good odds on the handicap due to Flyers keeping a lot of games close. You have to go back to 2015 for the last time they lost by at least 2 goals. But none of those games were against the Washington Capitals.
Capitals -1.5.
Canada: 2.30 Odds at Bet365.
USA: +125 Odds at BetOnline..
Everyone Else: 2.30 Odds at Bet365.
Follow @BetNHL
BetNHL.ca » Tonights Tips » NHL Betting Tips for January 27th, 2016