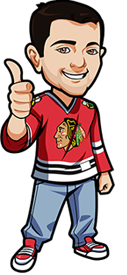 Written by Scott on Tuesday, January 6th, 2015
Follow @BetNHL
That was a just amazing game last night between Russia and Canada. Canada came away with the 2015 World Junior Hockey Championship.
Canada outscored Russia 2-1 in the first period but in the second, Canada scored three unanswered only to have Russia come back with three of their own. But the Canadians held off Russia in the third for the 5-4 win.
In the NHL, the Sharks beat the Jets 3-2. With only one game on last night there were no tips. Didn't like anything for that game so we just avoided it and enjoyed the Juniors.
A much busier day in the NHL today after only a single game last night. There are 10 games scheduled so it will be a great night.
Lightning vs Canadiens Betting Tips
This could and should be a great game between two teams tied for first place no only in the Atlantic Division but the entire NHL.
The Habs will be looking to avenge the loss they suffered during the last game these two met up when the Lightning came away with the 7-1 pounding of the Habs
Both teams know a win puts them into sole possession of first place so this should be an intense game.
Not sure who will come away with the win here but I am thinking there will be goals
Over 5.5 for 2.15 at Bovada for Americans and http://www.Bet365.com for everyone else.
Blue Jackets vs Stars Betting Tips
Despite taking a loss in their last game, a 5-4 OT loss to the Hawks, the Stars come into this game on fire. They have gone 8-1-1 in their last ten and are getting contributions from not only Seguin and Benn but their whole team.
The Jackets have been playing well too having gone 7-2-1 in their last 10
Both of these teams are pretty banged up at the moment but I still think the Stars, at home, come away with the win
Stars in Regulation for 1.91 betting odds at Bovada for Americans and http://www.Bet365.com for everyone else.
Blues vs Coyotes Betting Tips
Not much to say here. Both teams are known for strong defense and that should be apparent in tonight's game
Under 5.5 for 1.77 odds at Bovada for Americans and http://www.Bet365.com for everyone else.
December Contest Tiebreaker:
Here are the picks for the December Contest Tiebreaker between Yan, Jacob, Jan, Balint, Adrian and Didrik:
Sabres vs Devils: All 6 picked the Devils.
Hurricanes vs Predators: All 6 picked Nashville.
Avalanche vs Blackhawks: All 6 picked the Blackhawks.
Blue Jackets vs Stars: All 6 picked the Stars.
Blues vs Coyotes: All 6 picked the Blues.
Red Wings vs Oilers: Shocker – all 6 picked the Red WIngs.
So it's down to these games:
Senators vs Flyers: Yan, Jacob, Jan picked Senators, Balint, Adrian, Didrik picked Flyers.
Tampa vs Montreal: Yan picked Lightning, rest the Habs.
Sharks vs Wild: Balint picked Sharks, rest the Wild.
Islanders vs Canucks: Balint picked the Islanders, the other 5 picked the Canucks.
Strong possibility of another tiebreaker. If that happens, Jacob is out of the country until the 13th so it will be held a few days after that.
Follow @BetNHL
BetNHL.ca » Tonights Tips » NHL Betting Tips for January 6th ,2014