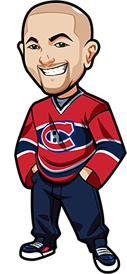 Written by Graeme on Friday, January 9th, 2015
Follow @BetNHL
We went 2-0 last night. We had Over 5.5 goals in the Blackhawks vs Wild game and Bryan Bickells goal with a minute left won us that bet. We also had the Colorado Avalanche to beat the Ottawa Senators and they did that with ease, winning 5-2.
Also loved J.T. Miller here.
With the holidays done and dusted, we're going to be back to our weekly chats throughout the NHL season with our friends at Sports Interaction.
If this is your first time reading – we sit down with this sportsbook and chat to them, and get THEIR perspective on things. It's pretty cool getting the sportsbooks insight and it's something we've been doing every Friday or Saturday for the last couple of months.
Tips are below this:
BetNHL.ca: The World Juniors are done and dusted. Being Canadas #1 sportsbook, we assume you had a lot of action on that final game?
Sports Interaction: You have no idea. Everyone and their mother was betting on it – mostly on Canada! We took a big hit there but ya know what – Canada winning was all that matters.
BetNHL.ca: Big coaching change this week in Toronto. How will that affect the line?
Sports Interaction: Toronto are one of our most popular teams when it comes to betting – but there comes a breaking point and we're currently at that. They had won just 2 in their last 9 games and when Carlyle was axed everyone was hammering the other side. For example on the game following his departure, Capitals vs Leafs, it opened as a pickem but within an hour had moved to Capitals -120 due to all the money on them.
We think we will see action on them on the puckline however. If you bet the puckline on the Leafs all season, you'd be up 9.93 units as of right now.
BetNHL.ca: It's about the halfway point in the NHL season. The Ducks are leading with the likes of the Blackhawks, Predators, Penguins and Lightning just behind. How's the betting been on them?
Sports Interaction: Obviously all of those teams you could consider for the Stanley Cup – however one thing bettors need to do is separate the best NHL teams from the best NHL BETTING teams.
For example – the Ducks. League leaders sure – but if you bet the puckline with them throughout the season you'd be down 21 units. Blackhawks and Penguins also see a lot of chalk each nights – so you have to be wary about betting on those two big public teams. Interesting you mention the Predators though because they're a team who still has a lot of value and you have to consider them a dark horse for the the best team in the West. People should also pay more attention to the Rangers. These guys made it to the finals last year, have been getting better as the season goes on, but still seem to be flying under the radar.
BetNHL.ca: You guys offer some great daily props on the players. Who should people be looking at?
Sports Interaction: Well Perry is back with the Ducks, and it shouldn't be too long before he regains his top form. Perry and Getzlaf on the same line AND in the power play – we'd recommend looking at betting at least one of them to score each night depndent on the odds. We also think people should look at Perron, the new Penguins player. He's got a lot of talent and is in a hot lineup.
BetNHL.ca: Finally – any crazy NHL bets over the last little while?
Sports Interaction: Yes! Did you know you can do a TWO fold parlay and win at 322/1 odds? Because that's what one punter did! He called the correct score in the SECOND PERIOD for the Predators vs Ducks game and Stars vs Blackhawks game. Just those two correct scores added up to 322/1. Hopefully that same week, that person bought a lottery ticket.
BetNHL.ca: As always, thanks very much guys. Everyone should go sign up at Sports Interaction now – if only for the amount of sick player props they offer.
NHL Betting Tips for January 9th:
Despite 5 games on the board, it's a bloody ugly night for tips. The odds are just brutal.
We'll go with Lightning -1.5 over the Sabres at a barely bettable 1.71. We believe that's still got some value based both on the last few games both teams have played, as well as the games between the two. They've played three times this season and although Buffalo upset Tampa once, Tampa decimated hte Sabres 5-0 and 5-1 recently. Tampa are playing some excellent hockey tonight.
Finally, we'll take the Blue Jackets to win. 2.20 odds is a nice price considering the Leafs recent form, and the fact that Blue Jackets have won their last two road games.
Have a great evening.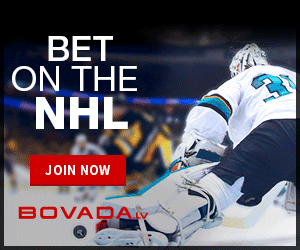 Follow @BetNHL
BetNHL.ca » Tonights Tips »