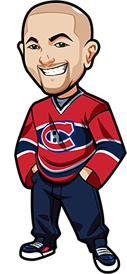 Written by Graeme on Friday, March 13th, 2015
Follow @BetNHL
A perfect 3-0 last night.
The Habs vs Senators we had Over 5 goals and it did that with ease – as the Senators bounced back from 2-0 down to win 5-2 in a big win. Could have been a lot different if not for Hammond. Honestly it's not just the shots that guy saves – there's something about him that is allowing the team to gain that much more confidence and play that much more freely.
Also is it just me, or is the Hamburglar just the worst nickname ever? Nicknames should either be cool, or easier to say. That is NEITHER.
We had the Sharks vs Predators under 5 goals. The theory there was that one team would win by a shutout and that's what happened with the Sharks doing the business 2-0.
Finally we had the Kings to beat the Canucks and they did that with ease. Just bloody dominant – what a result that was.
Tips are below. It's Friday, so time for our regular chwt with the boys over at Sports Interaction as we get input on all things sports betting from their perspective. Interview was conducted yesterday.
BetNHL.ca: Let's focus on a Canadian team we don't talk about much – the Winnipeg Jets. It's getting down to the wire and they're clinging to a playoff spot despite constant injuries all season. Now they've lost Byfuglien and Little. Beginning of the end?
Sports Interaction: It's going be very tough for them to do that. They've did so well with putting up the points despite the injuries, but Byfuglien is a huge one and they've lost 5 games out of their last 8. And to make matters worse the Sharks and the Canucks are right there.
We're still seeing action on the Jets, but nowhere near as much as we were earlier on the season. It's like a ghost town when the Jets are on the road in terms of betting too.
BetNHL.ca: How about the Predators? They lost 6 in a row.
Sports Interaction: We think that's just a blip – I mean look at their team. One of the deepest in the NHL. They haven't had any long slumps either. It's just a case of fitting in the new players and getting them on the same level as the rest of the team. I mean you've got one of, if not the best, blue lines in the NHL and with Rinne in there – any slump they get in it shouldn't be too hard to pull them out. However we don't recommend puck line bets for the Predators. If you bet them all season you'd be down over 17 units.
BetNHL.ca: One of my favourite teams last season was teh Avs. They're on a hot run at the moment although it's probably too little, too late. Can it continue?
Sports Interaction: Well they're a top 5 puck line team. But the loss of MacKinnon is obviously huge, and you can't trust Varlamov at the moment with the problems with his groin.
If anything Roy had them playing above themselves – and what that did was bring on unrealistic expectations this season. They're just not a team you can depend on.
BetNHL.ca: What was the most popular game of the week in terms of betting?
Sports Interaction: Islanders vs Leafs.
BetNHL.ca: And finally – the free bet is still good?
Sports Interaction: Yes! Tell your visitors to head on over to Sports Interaction and just by clicking that link, they'll be able to claim the $20 free bet. Tell them to bet the Leafs with it too, so it's like a $0 free bet!
BetNHL.ca: Haha, thanks guys.
Flames vs Leafs Betting Tips:
This is one of those games where I think the Leafs will really make a game of it. I really can't fully justify WHY – it's just one of those games where you look at it and think yep Leafs should be up for it.
Either way – there's a high potential for this to be going over. Flames are always good for the goals, and we'll be taking Over 5.5 in that one.
We'll also be placing a value bet on the Flames -1.5. 2.60 odds – if Buffalo can score 3 on the Leafs you have to think the Flames can, without the Leafs keeping it that close. Even if they do – 2.60 is a great price considering the skill level of both teams and the fact that the Flames are at home.
Stars vs Capitals Betting Tips:
I also like this one to go Over 5.5. Stars are scoring the goals on the road but this is a game at a time where the Capitals really need to step up and win. Should be a competitive game.
Get the free bet at Sports Interaction. PLUS even if you aren't Canadian, you can still get $100+ by depositing.
Follow @BetNHL
BetNHL.ca » Tonights Tips »