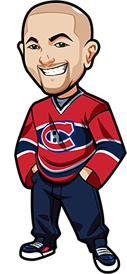 Written by Graeme on Wednesday, March 19th, 2014
Follow @BetNHL
A nice 2-1 win last night. We won with the Salami, and my thinking about that was thankfully spot on. I kept looking at the games and while there was some where I could see them going over – the more I looked, the more I was unconvinced. Two in particular were the Flyers vs Blackhawks and Flames vs Sabres.
Flyers vs Blackhawks started well with 4 goals in the 1st period – and then 40 minutes of nothing forcing the game to overtime. Sabres vs Flames is always a tricky one because it's the type of game that could go under and be really close, or go over by a large margin. That one went under, Flames going up 3-1.
So thankfully we took the Grand Salami over, and got the win there. In our other win of the night, we had the Oilers to beat the Predators and they did that with ease in a 5-1 thrashing. Hey who knew – Nugent-Hopkins can actually play hockey. Amazing stuff.
We saw a lot of new visitors yesterday as a bunch of people shared us on Reddit, Twitter, Facebook and a few forums. Always appreciate that – thanks. If you're new here be sure to subscribe via e-mail either at the top, in the sidebar or at the bottom of this post. Not only do we provide NHL Betting Tips daily for free, but we also run various contests with free entry and we'll be running some sort of pool or fantasy league for the playoffs.
.
It's Wednesday March 19th, 2014 and I know I'm in for a tough night. Scott took a break from his Mexico vacation to send me a message via Whatsapp this morning just to inform me what a tough night of hockey betting I have ahead of me. Challenge accepted, let's see what there is today:
Tampa Bay vs Toronto Maple Leafs: Leafs to Win
First let me quickly say just how bloody annoying I am finding Leafs fans on Facebook lately. I'm not sure why, but they've taken to simply commenting "Leafs" on everything, and posting daily status updates simply stating "Leafs". If you're one of those people I hate you.
Despite that, I do hope you will be typing it tonight many times because I'm going with Toronto to beat Tampa tonight. They've played twice this year already, with the Leafs beating them twice. It's been a nice matchup for Toronto and they've looked great in both games.
Leafs had a poor road trip while Tampa are heating up – usually I like the hot team, but it's a massive game for the Leafs, and with the home crowd behind them I'm thinking they can pick up the win. 1.95 odds at http://www.5Dimes.eu for Americans(Need to register to see lines) and and http://www.Bet365.com for everyone else. is a nice price.
Value Bet: Colorado Avalance vs Winnipeg Jets: Tie
These games are always tight. They've played 4 times with 3 games going to overtime, 1 to a shootout, and every game having just a 1 goal difference.
If I was backing a winner in this game I'd lean slightly towards the Avalanche. 1.90 odds are a decent price there.
However I'm going to take a risky value bet, going for the tie instead. This essentially is betting that the game will go to overtime. Whatever sportsbook you bet at they may have it different. It might be under Money Line 3-way or it might say Regulation Time bet or something.
Either way – 3.8 odds, I'm going with the tie on this one. You can bet it at Bovada for Americans and http://www.Bet365.com for everyone else..
And unfortunately, that's it for tonight. A bet I'm comfortable with, a bet I feel there is great value in…..and everything else, man no chance at all. As always, you can ask my opinion on any games in the comments below. Have a great night.
Leafs.
Follow @BetNHL
BetNHL.ca » Tonights Tips »