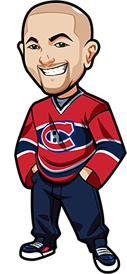 Written by Graeme on Thursday, March 20th, 2014
Follow @BetNHL
A great night last night, as we had a bet with big odds at 3.8 odds on the Avalanche vs Jets game being a tie at the end of regulation, and that was what it was.
But man, is that ever a nerve-wracking bet.
The range of emotions going through the game is crazy – especially in a game with 8 goals in regulation. You're cheering on no goals, then the Jets to score, then for no goals, then for the Avs to score, then for no goals, then for the Avs to score….you get it. After 8 goals with 10 minutes left – man, that final 10 minutes was some nerve-wracking stuff.
Thankfully the game went to a tie, and we got the nice huge win.
Unfortunately the Leafs let us down to ruin the mood somewhat. All the best to Paul Ranger who got a nasty hit last night. Here is the hit if you never saw it courtesy of SportingNews.com:
Also good news guys – I FINALLY found something worth watching at a Leafs game.
Is that David Clarkson?
Alright, it's March 20th 2014 and we have 9 games tonight. Anaheim and San Jose, both on 97 points face off against each other in the late one. The Blue Jackets come to Montreal, and Tampa hope to continue their nice run in Ottawa.
Should be a good night, let's get to the betting tips:
Sabres vs Oilers:
This is one that's been bugging me all morning – and I'm hating not having Scott around to talk it out. I'd be regretting it if I didn't mention it though.
The numbers dictate that the Oilers should win this one. Sabres have lost 8 straight. Oilers are playing some great hockey. Even Nugent-Hopkins was able to score! Oilers won 3-2 in their previous meeting – going just by the numbers, Oilers in regulation at 1.83 is the bet to make. Sabres with their injuries and their goaltender situation just make it that much more of a good bet.
But my instincts say the Sabres are going to win here, and pull off the upset. They've did that a couple of times this season in much bigger games and with much bigger upsets, and there's just something about tonight where I feel that yep – Sabres take this one.
So use your own judgement on that one. I'd just be kicking myself later if Sabres win and I didn't trust my instincts, so I'll be betting them at 2.67 odds at http://www.5Dimes.eu for Americans(Need to register to see lines) and and http://www.Bet365.com for everyone else..
Senators vs Lighting: Over 5.5 Goals
They've played 3x previously, with 2 of the games going over(5-3 Sens, 4-3 Tampa) and one under(3-1 Tampa).
Ottawa have been very poor lately especially at home and I was leaning towards betting Tampa. But Ottawa have had a nights rest, while Tampa played last night. That makes me a bit hesitant.
I like the offenses to be the story of this match, and the goalie situation obviously adds to that. Over 5.5 goals is the play for this game – 1.83 odds at Bovada for Americans and http://www.Bet365.com for everyone else..
Habs vs Blue Jackets: Habs to Win in Regulation
Huge game for the Blue Jackets here. Every game counts and this is a massive one for them.
Habs meanwhile are looking like they're settling down with the recent changes, and are coming off that big win against the Avs. Columbus were sub-par against the Hurricanes at home – so that "must-win" mentality isn't really there yet.
I've went back and forth on this one as well – trying to determine whether to go for Habs win(1.7 odds) or Habs regulation win (2.10 odds). I'm going to go with the Habs 2.10 as I think they will just be flying high from the Avalanche game, and can win this matchup early on.
Back that at Bovada for Americans and http://www.Bet365.com for everyone else..
Bonus Bet: I like this game to start off fast. I'd go with the goal before 9:30 seconds, and also a smaller wager for entertainment on the highest scoring period being the 1st period. 3.10 odds on that, available at http://www.Bet365.com. (Note for Americans: I don't believe they list this bet, but you can check the props at http://www.carbonsports.ag and http://www.Bovada.lv for Americans).
Follow @BetNHL
BetNHL.ca » Tonights Tips »