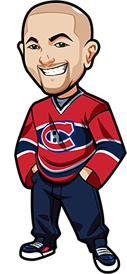 Written by Graeme on Sunday, March 23rd, 2014
Follow @BetNHL
There was a moment last night where I was sitting there, really cursing my luck. It looked like a 1-2 tonight, with the home teams up by about 6 or 7 goals, and Boston down 2-1. After finally making the decision to back Boston on every game until their amazing run ends – it looked like it was about to end right there and then.
I needn't have worried.
Boston showed why they are currently the best team in hockey with a great come from behind 4-2 win. The Capitals helped the away goals with a 3-2 win over the Sharks, and Flames vs Oilers…..wow. Just wow. The Flames pulverized the Oilers 8-1 in just a massive, massive beating to help us go 3-0. That's the kind of game where I'd love to travel back in time, hit up a sportsbook and say "Give me Flames -6.5, I just have a good feeling".
Habs/Leafs as predicted went over too, although it did toy with us a little with that quiet 2nd period. One of those games though where after the fact you're left asking "Why didn't I bet more????". Ah gambling – can never be happy.
So a great 3-0 night with the NHL Betting Tips.
It's Sunday, March 23rd. If you're a fan of casino gambling, get 14 free slot spins at Mega Casino. Not available to Americans. They also offer a $2000 welcome bonus and have got a bunch of pretty awesome games like Superman, and have live dealer roulette as well. So if you're bored this Sunday, go grab your 14 free spins.
Let's get to the NHL Betting Tips….
Blackhawks vs Predators: Blackhawks to win in Regulation
About 9 days ago, the Predators actually beat the Blackhawks 3-2. Since then though – Chicago have been on a tear. They're missing a few players at the moment but you can see it's all falling into place for them and even without Kane, they're really starting to work well together.
Since that Chicago win the Predators put up 3 losses and a win against the Flames. It's not been a great road trip for the Predators thus far, and they're average on the road at best.
1.74 odds on the Blackhawks to win in regulation which you can bet at http://www.5Dimes.eu for Americans(Need to register to see lines) and and http://www.Bet365.com for everyone else..
Value Bet: Red Wings vs Wild: Red Wings to Win in Regulation
1.83 odds on the Detroit Red Wings to win overall, but a great price of 2.45 for them to win in regulation which I'm going for. This is a crunch game for the Wings. They've got to win this game really if they want to get in the playoffs, and they can leap over the Leafs. I like a solid performance from the Red Wings here. I think if they win this game, they do it in regulation. They got the big win over Minnesota last night on the road, and I think they continue that here.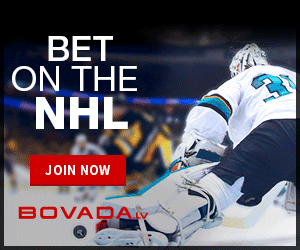 And I'm sorry guys – but other than a value bet on the Panthers, that's it today for the games. I'm just not sold on anything else. I will however give my opinion on the games below for those who are looking for thoughts on any of the other games:
Ducks vs Panthers: As mentioned – a value bet on the Panthers at 3.6 odds is worth it today. Huge price no matter who is in goal for Florida – Luongo or Ellis. Ducks are not good enough at the moment to warrant that price.
Islanders vs Blue Jackets: Blue Jackets have beat the Islanders twice and have been fairly solid on the road. Both teams are very inconsistent at the moment though. Look at the Blue Jackets performance against the Habs, then against the Hurricanes or Rangers. I'd go towards Columbus, but the 1.71 price is a stickler for me.
Penguins vs Blues: Pittsburgh have had a lot of high scoring games of late, while the Blues not so much. Probably Under 5.5 is decent with a 3-2 game looking likely. You can actually bet the correct score of 3-2 as well as various other correct scores at Bet365 (Americans: We recommend http://www.bovada.lv. Although that's one of those bets where you may want to kill yourself if there's an empty netter to ruin it.
Leafs vs Devils I like the Under 5.5 in this one, although it's risky. Odds are about 1.76 which is low, considering the Leafs will most likely throw caution to the wind. Devils are a possession team and will likely attempt to dictate the game and play cautiously. But the odds and the Leafs defense are turning me off from making that an official tip.
Canucks vs Sabres: Who cares?
Follow @BetNHL
BetNHL.ca » Tonights Tips »