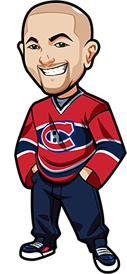 Written by Graeme on Tuesday, March 25th, 2014
Follow @BetNHL
A night of upsets hit us hard last night. I even said yesterday "You'd really need a massive night of upsets " and that's what happened with 3 road team underdogs winning and 1 home underdog winning. Such fun.
Kids are back at school today but man I think the bug that they both had went straight for me. Been feeling like crap all day hence why the tips are late – one of those bugs where all your bones just ache. Always fun.
Due to being sick I haven't been able to put as much research into these as I wanted to – so just a note that personally, I'll be betting half what I usually bet on these.
Alright let's get to the tips so I can head back to bed, watch Man U vs Man City then continue my Workaholics marathon – man, what a great show:
Blues vs Leafs: Leafs to Win
Bernier is starting tonight. I'm concerned how healthy he will be – but he's just the confidence boost the Leafs need at this point.
2.20 odds for the Leafs to win. Reimer has taken all the hate for their performances as of late and this is just what they need to revitalize them.
Going with Toronto to pick up a much needed win tonight.
Habs vs Sabres: Habs to win in Regulation
Low odds of 1.7 here but I'll go with it. The handicap of -1.5 is 2.15 odds and doesn't fully appeal to me – Habs have dominated Buffalo well this season, but Buffalo have always kept it close.
Going with that low price at http://www.5Dimes.eu for Americans(Need to register to see lines) and and http://www.Bet365.com for everyone else..
Blackhawks vs Stars: Blackhawks in Regulation
Hawks have beaten Dallas 3 times this season and it's always been a good matchup for them. Stars are having issues at the moment including on the power play and although they looked better there against Winnipeg – they aren't exactly the Blachawks.
Hawks were very flat on Sunday, but I'm hoping that'll cause them to turn things around tonight and come out firing. They need the win to separate themselves from the Avs.
Going with Hawks Bovada for Americans and http://www.Bet365.com for everyone else..
Follow @BetNHL
BetNHL.ca » Tonights Tips »