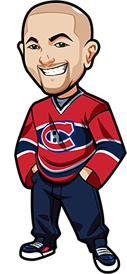 Written by Graeme on Wednesday, March 26th, 2014
Follow @BetNHL
Scott's back from vacation as of today. Fun fact: when he left, Leafs were 3rd in the conference, 2nd in the division. Now he's back? They're not even in a playoff spot!!!!
Classic Leafs.
He'll be back doing tips Friday, Sunday and Monday. I'm also off to New Orleans NEXT Friday so he'll be covering tips for that weekend and a few days after it. Then both of us are off on a vacation with both our families, where we get to tell them "Sorry, we need to go do tips" and then hit up the bar for a few pints while watching hockey highlights from the previous night.
Fun times.
So a 2-1 winning night last night for a small profit. Our one loss was the Leafs – which while disappointing, allowed me to text "Classic Leafs" to many friends. So it's not all bad.
We won with the Montreal Canadiens defeating the Buffalo Sabres in regulation time, as well as the Chicago Blackhawks defeating the Dallas Stars in regulation. As expected – the Hawks had some life in them and bounced back after their disappointing Sunday.
I had mentioned I was sick yesterday – after the tips I went for a nap. When I woke up I honestly couldn't remember the bets. I flicked on the TV and I saw Islanders 4-0 up on the Hurricanes on the road and was freaking as I immediately thought "Oh man, I tipped the Hurricanes." Thankfully that was not the case there haha. What a great game that one was though.
$25 risk free bets on player prop, in-game bet and $50 risk free mobile bet. Available for NEW customers only at BetOnline.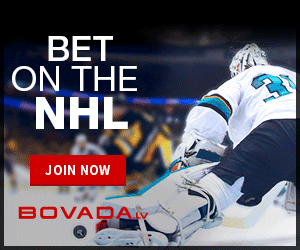 It's Wednesday, March 26th 2014 and it's crunch time for many hockey teams right now with playoffs and seeding all up for grabs. These are always tricky times because you never know what team is going to show up, and an early goal can change everything. Either it makes the opposition completely flat and feeling like they have nothing to play for, or it causes teams to throw caution to the wind and we get mad goalfests.
And we have…yikes, only 3 games tonight. Canucks take on Wild, Flyers take on Rangers, and Ducks are in Calgary. Quiet night tonight.
Ducks vs Flames Betting Tips: Over 5.5 Goals
2 out of the 3 games these two played went over, with the results being 3-2 Ducks, 5-2 Ducks and….7-2 Flames.
These two teams open up well against each other, and the Flames offense has been reliable for quite a lot of high scoring games recently. Ducks as well, who picked up a big 6-2 win over Florida a few days ago.
Both teams are rested, Ducks out for revenge, and Flames finding some bizarre motivation to keep hammering against teams. Over 5.5 goals for a great price of 1.98 at Bovada for Americans and http://www.Bet365.com for everyone else..
That's all I have tonight. There's some value in the Under 5 goals 2.25 odds for Rangers/Flyers, but with this possibly being a playoff preview game then there's a good chance they both go nuts hoping for a nice demoralizing win. Canucks/Wild Under 5 is okay too – but the odds aren't there, especially when you factor in the potential empty netters.
Both Canucks/Wild games this season have went to shootouts. I'll be placing a bet on this one to go to overtime – 3.60 odds for that. Nice value bet you can make below:
.
Follow @BetNHL
BetNHL.ca » Tonights Tips »