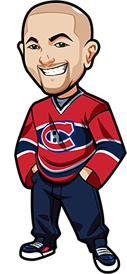 Written by Graeme on Thursday, March 27th, 2014
Follow @BetNHL
Unfortunately we went 0-1 last night. We had Over 5.5 goals in the Ducks/Flames game and that petered out at 5 goals. Disappointing considering there were 68 shots on net! That's hockey.
Busy card in the NHL tonight. 10 games on the board including the Kings vs the Penguins, the Blackhawks vs the Bruins and the Habs visiting the Red Wings. Lot of good games and I'm looking forward to it.
Sorry about the delay in tips today – internet died around 10am and was down all day.
Before I get into the tips today, I want to mention something that I hope you will join us on because this is making me look forward to tonight a LOT more:
Daily Fantasy Sports
This is something I've did before – Scott never has though, and we're going to start as of tonight doing a joint effort – then we'll write about it for BetNHL.ca.
We've signed up at http://FanDuel.com where you can do daily fantasy sports. It is completely awesome and a ton of fun.
How it works is simple – they have a variety of different contests you can enter. For example for NHL there's the $2 entry contest with the $2000 Prize Pool, or the $500 prize pool contest with $1 entry.
So you enter the $2k NHL Breakaway Contest for $2 for March 27th. There are 10 games tonight. You pick NINE players out of all of the games. And if you get enough points you win cash! As of right now, the top 120 players will make money. It's tiered so 1st wins $300, 5th-6th gets you $50 and 81st-120th gets you $6.
Even if you don't win – it's still a ton of entertainment for just $1 or $2. And they have practise leagues as well you can join.
We're registered there as BetNHLDotCA so head on over to Fanduel and sign up. Let us know who you picked in the comments below and how you did. We'll do a report each day of how we are doing, and then a full review within a week.
Okay on with the tips for March 27th, 2014:
Bruins vs Blackhawks: Over 59.5 Shots
This is a tricky one. Initially I was battling with the Over/Under goals and I was leaning towards the Under due to two top goalies. But the media are playing this one up huge due to it being the first time Chicago are in Boston since the Finals last year – and that can always get a game and crowd heated up.
I'm going with Over 59.5 shots in this game. Last time they had about 64 shots and I can still see a lot of shots in this one no matter whether it is a big goalscoring game or a quiet one.
The price is 1.85 odds and you can bet at Americans: http://www.carbonsports.ag / Everyone Else: http://www.unibet.com.
Lightning vs Islanders: Lightning to Win In Regulation
At this point of the tips was when the internet died. So no long write-ups. Lightning to win tonight in regulation. 1.7 odds at http://www.5Dimes.eu for Americans(Need to register to see lines) and and http://www.Bet365.com for everyone else..
Grand Salami: Under 54.5 Goals
Lot of games I looked at tonight I'd lean towards the under. Enough that I like the Salami even with a freak game or two. Back this 1.9 odds http://www.5Dimes.eu(Need to register to see lines)
And remember – head on over to Fanduel. We're going to do a call about it right now and we'll recap how we did tomorrow assuming it's not too late for us to get into tonights action.
Follow @BetNHL
BetNHL.ca » Tonights Tips »