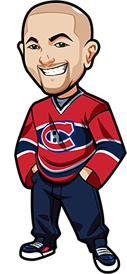 Written by Graeme on Friday, March 27th, 2015
Follow @BetNHL
Sorry again about no write-ups yesterday guys; the day just got away from me.
Quick note that I've did a bunch of work on the website today; getting it all set up for maximum mobile usability, speed etc. If you notice anything out of wack post in the comments or send us an e-mail at betnhl.ca@gmail.com.
What a night of hockey. That Rangers vs Senators game in particular – wow. Going to be interesting to see how they bounce back from that. Hammond was bad out there but he said he wasn't 100% so who knows. The Rangers though – wow. Not just the win but also the penalty kills. Exquisite performance from them.
Only 3 games tonight. This is my favourite night for doing FanDuel: Daily Fantasy Hockey. I'm still working on various strategies and so on. I've spent the entire season running experiments. I actually might write an ebook during the Summer on that topic.
One thing I have really learned from months worth of daily fantasy hockey is there is no set formula. Instead, there are a wide variety of strategies and it's best to try various ones to see what works for you.
The current one I am doing is picking two teams who I expect to have high scoring nights, then picking the top two lines from those teams, and doing two entries. Tonight for example, let's say I liked Chicago and Dallas to both have high scoring nights.
Entry 1: 4 players from Chicagos top line, 4 players from Dallas 2nd line.
Entry 2: 4 players from Dallas top line, 4 players from Chicago 2nd line.
With minor changes made based on who is out there for the powerplay. That can also help me in regard to what defenseman to pick.
Some nights based on the salary cap and who I pick, I can actually get the top TWO lines from each team in one entry.
My goalie picking remains the same – look for a goalie who is going to concede no more than 1 goal, and is on the underdog team. It usually ends up being a road goalie – just depends how offensive the other team is.
Anyway yeah – regardless of winning or losing it's always so much fun. And when a game is 5-1 and you don't care anymore – it's nice still to care, as you're cheering for them to get Hall to get a goal or whatever.
If you're in USA or Canada – seriously, sign up at FanDuel: Daily Fantasy Hockey as you are missing out if you are not. The game is definitely beatable.
Alright, let's look at tonights games and I'll analyze all 3 of them:
Wild vs Flames Betting Tips:
Boy this is a tricky one. My instincts immediately lean towards the Flames due to the 2.55 price, so let's see why we shouldn't bet that.
Wild at home – well, you can't really count on them at the moment at home. They've had a few bad losses in the past month – to the Capitals, Ducks and Avalanche. Obviously 3 difficult teams to play against and they were only 1 goal differences. In previous games, Wild have beaten the Flames in two tight ones this year: 1-0 and 3-2, both in Calgary though.
I can see why the Wild are favourites – but I don't think the price is accurate. Home or away, the Flames are giving EVERYBODY a game, and 2.55 for including overtime and shootout is a nice value bet that I'd be going towards.
Blue Jackets vs Blackhawks Betting Tips:
Last time these two played, the Jackets won 3-2 in a tight one. I can see this being another tight one. Blackhawks are a huge 1.42 favourite.
Again, I think there is value on the road team. Blackhawks have had two thumpings in their last three games, so you can't fully count on them. Jackets are playing some good hockey at the moment. Initially I was going to suggest a play on the money line 3-way, and bet the game will go to overtime. 4.20 odds for that. But I think yet again, Jackets have value here. Honestly I'd price them at 2.40 at the most. 2.95 just seems way too high.
Stars vs Oilers Betting Tips:
Stars have beaten the Oilers twice, but both games were tight. 3-2 in November, 6-5 in a shootout in December.
Stars are making a crazy late push for the wild card spot. Oilers go into this off the back of some actual good results. However they couldn't stop Winnipeg who beat them 4-1, and I have to hope the same happens here.
I'm not underrestimating the Oilers tonight. I don't want to say they're playing like a different team – but they're actually flowing fairly well. It's more a case of I know what the Stars are capable of. I'd love to take Stars -1.5 at 2.67 but Oilers offense is flowing well. There is a good possibility of a similar 1-4 result, but I'll go with Stars in regulation time at 1.90 odds instead.
It's a tricky night. Claim the bonus at Bovada for Americans and http://www.Bet365.com for everyone else..
And like I said – perfect night to take it easy with a few small value bets, and instead focus on FanDuel: Daily Fantasy Hockey.
Follow @BetNHL
BetNHL.ca » Tonights Tips »