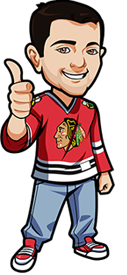 Written by Scott on Friday, March 28th, 2014
Follow @BetNHL
Well the NHL action was great last night but unfortunately our tips weren't as lucky.
We had the Lightning to win in regulation but they needed a shootout to defeat the Islanders 3-2. Graeme was leaning towards the under 5.5 in the Blackhawks – Bruins game but instead went with under 59.5 shots and the game ended 3-0 Bruins with a total of 51 shots. And lastly we had the Grand Salami under 54.5 and thanks to a few high scoring games the night ended with a total of 55 ouch! I texted Graeme and told him don't blame the Salami on me, my Hawks didn't score while your Habs buried 5. The response he gave me was unrepeatable and not pleasant whatsoever.
6 games tonight and it's going to be a blast to watch them. Toronto plays Philly and Columbus takes on Pittsburgh with both the Leafs and the Blue Jackets tied for the 8th and final playoff spot in the East with 80 points along with the Red Wings and the Caps. In the West we have the Preds vs the Stars with both teams on the outside looking in of the playoff picture and both teams in desperate need of points to keep their playoff hopes alive. Gonna be a crazy night with so much on the line.
My vacation was a blast but it's nice to be back and speaking of back, let's get back to winning with the NHL betting tips for Friday March 28th but before that a quick note about Fanduel:
Daily Fantasy Sports Update:
Unfortunately due to Graemes internet problems, we were unable to get rolling last night with Daily Fantasy Sports over At Fanduel. By the time we connected it was too late.
So our first daily fantasy sports contest will be tonight and I'm so hyped. We spent over 45 minutes on the phone yesterday discussing it – and all that for just a $2 entry into the $1500 NHL Breakaway.
We'll post a report tomorrow how we did, and every day we'll update you on our thought process and so on as we analyze it further.
In the meantime – yeah, I've not been this excited for hockey in a long time. Get over to http://www.FanDuel.com and give it a try.
Leafs vs Flyers: Over 5.5
This game has goals written all over it. This is the 3rd and final time these teams play each other this year with the Leafs winning the first 2 games 3-1 and 4-3 in OT.
The Leafs need wins and they need them now if they hope to make the postseason but this isn't going to be an easy game for them. The Flyers will be looking not only for revenge for the previous 2 losses to Toronto but they need points to solidify their playoff position.
Philly has been solid in their last 10 going 6-3-1 while the Leafs, ugh the poor Maple Leafs, are 3-7 and on a 6 game losing streak.
Both teams are going to try and punish the other so this is the game that I'll be watching on one screen.
Bet Over 5.5 goals in this game at http://www.5Dimes.eu for Americans(Need to register to see lines) and and http://www.Bet365.com for everyone else. for 1.76
Predators vs Stars: Stars Win in Regulation
This is also going to be a fun game to watch with both of these teams clawing their way to the 8th and final spot in the Western Conference. 4th of 5 games between these teams with Nashville winning the first, Stars the second the again the Preds in the third game.
Dallas in currently in 9th place with 79 points and are 5 points behind 8th place Phoenix with 2 games in hand. Nashville are in 11th place with 75 points with the same number of games played as the Coyotes.
Nashville played last night and destroyed the Sabres 6-1 thanks to 4 goals first period.
But I have liked the Stars chances to make the playoffs since the Olympic break and I still do although they now have some work to do. They are a strong team but the standout player over the last while for them is Tyler Seguin who is on a 10 game point streak. Gotta back the rested Stars in this game against a hopefully tired Preds squad.
Good odds of 1.90 for a Stars regulation win at http://www.5Dimes.eu for Americans(Need to register to see lines) and and http://www.Bet365.com for everyone else.
Blackhawks vs Senators: Blackhawks in Regulation
The other game I'll be watching tonight is this one where my Blackhawks are in need of only a single point to clinch a playoff spot. This is the 2nd and final game between these two teams with the Blackhawks winning the first 6-5 behind a Toews hat trick.
The Hawks have a 1 point lead over the Avalanche in the Central division so they need this win to gain a little breathing room as well as guarantee themselves a playoff spot.
Last night was a rough game for the Hawks losing 3-0 to the Bruins but honestly who can blame the Hawks as the Bruins are on fire.
Ottawa has had a rough go all season and things are not going to get any better for them now that Bobby Ryan is out for the reminder of the season due to a sports hernia surgery.
Look for a huge bounce back game from the Hawks in this one ensuring playoff hockey in Chicago.
http://www.5Dimes.eu(Need to register to see lines) has the odds for a Blackhawks win in regulation at 2.05 so let's jump on that.
Follow @BetNHL
BetNHL.ca » Tonights Tips »