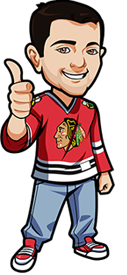 Written by Scott on Monday, March 30th, 2015
Went 2-1 last night.
Had the Hawks to win against the Jets and they did winning 4-3. Also had the Capitals – Rangers going over 5 and the Caps won 5-2. Ovechkin scored twice and now has 49 goals in the year.
Our loss came when we had the Bruins to win in regulation. They won 2-1 in OT over the Hurricanes.
The Flames beat the Preds 5-2 and continued their game of leapfrog with the Kings.
The Sens lost to the Panthers 4-2. With the Bruins win, the Sens are now 3 points out of the playoffs. Jagr scored twice for the Panthers and now has 720 for his career.
6 games for today.
Lightning vs Canadiens Betting Tips
The Lightning will be looking to sweep the season series against the Habs with a win tonight. They lead the series 4-0.
The first four games had three go over 5 goals. 7-1, 4-2, 1-0 & 4-2 were the scores.
The Lightning will be looking to score tonight after being shutout for the first time this season on Saturday against the Red Wings 4-0. They still lead the NHL with 242 goals scored.
Habs will be going hard to avoid the sweep. No matter the outcome, this is going to be a good game between the #1 & #2 teams in the Atlantic.
Over 5 for 1.87 at Bovada for Americans and http://www.Bet365.com for everyone else.
Kings vs Blackhawks Betting Tips
The Hawks need any and all points they can for the remainder of the season. The got the win last night and are back in the playoffs but they're one loss away from being back in the wild card. They have a chance to catch the Blues and gain home ice for the first round.
The Kings are in a even worse situation. The keep trading places with the Flames for being in 3rd in the Pacific and in 9th and out of the playoffs.
Huge game for both and this being the 3rd and rubber match with them splitting the first two.
Over 5 for 1.80 at Bovada for Americans and http://www.Bet365.com for everyone else.
Oilers vs Avalanche Betting Tips
Despite playing great of late, 13-6-1 over the last 20, the Avs are still on the outside of the playoffs. They have a small chance to make it in and anytime they take on a team like the Oilers they need to capitalize.
The Oilers are bad. And to make matters worse, they now are facing injuries to a bunch of players.
This is the third and final game between these two. 2-1 Colorado in a shootout and 4-3 Oilers.
Avalanche in Regulation for 1.74 at Bovada for Americans and http://www.Bet365.com for everyone else.
Best America Sportsbooks for NHL
BetNHL.ca » Tonights Tips » NHL Betting Tips for March 30th, 2015