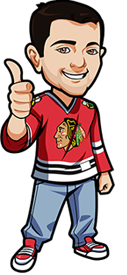 Written by Scott on Monday, March 31st, 2014
Follow @BetNHL
That's more like it. 3-0 with the NHL betting tips last night and it didn't come easy.
First we had the Bruins to win and it took them until the 5th round of a shootout to win but they did 4-3. Next we had the Capitals to score first which they did at the 4:17 of the first but the Preds answered 1:30 later and beat the Caps 4-3 in a shootout. Last we had the Grand Salami over 33.5 and thanks to a bunch of high scoring games we went over with a total of 38.
Overall a crazy night and one with potentially bad news for the Blackhawks. Toews was hurt on a hit from Brooks Orpik and is now listed as day to day. First Kane and now Toews things look bad for the Hawks. Also Detroit beat the Lightning to continue their push towards the playoffs and are now in 7th with 84 points.
A fairly slow night of hockey with only 4 games and also very little playoff implications; Panthers – Devils, Hurricanes – Senators, Jets – Ducks and Wild – Kings.
Daily Fantasy Hockey Update:
As we've said before – we are playing at http://www.FanDuel.com and hope you join us! Our username there is betnhldotca.
In the $2k Prize Pool NHL Breakaway which we entered for $2 we came 528th out of 1116. We had 34.6 points and needed 49.5 points to cash. So 15 points off. Here was our team, compared to the winner who got 72.7 points: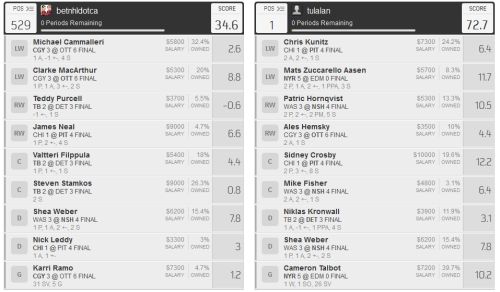 We're really digging it, and right now we're just testing out different strategies and correlating the data. A lot of it is of course luck based – but there's a lot of strategy to it too and we're working on that. We're probably going to do a few blog posts as we work out the strategy, throw in some theories etc. Tonight will be fun with just 4 games to pick from.
So come play with us over at http://www.FanDuel.com. You'll be surprised just how fun it is – sitting there glued to the TV caring only about specific players and not just the game.
So let's get to the NHL tips for Monday, March 31st:
Jets vs Ducks: Ducks -1.5
Could these teams being anymore different from one another?
On one hand you have arguably one if the top teams in the NHL all season long and the other has had a rough go all year. One team has clinched a playoff spot while the other, while mathematically still in it, is out.
The Ducks have played amazing hockey at home with a home record of 25-7-4 while he Jets play sub .500 hockey.
With the season series tied at a game apiece look for the Ducks to win the season series against the Jets tonight. Plus with the Sharks only 1 point behind the Ducks the Ducks will need to win their 2 games in hand on the Sharks to ensure they win the Pacific Division
Bet the Ducks -1.5 at http://www.5Dimes.eu for Americans(Need to register to see lines) and and http://www.Bet365.com for everyone else. for 2.40 betting odds.
Hurricanes vs Senators: Hurricanes win
Ottawa played great last night and won against the Calgary Flames 6-3.
But with both of these teams not in the playoff picture this could be a great game to watch.
This is the 3rd and final game between these two clubs with the Canes winning the first two 4-1 and 6-4. Look for the trend to continue in this game
Bet the Hurricanes to beat the Sens for 2.10 odds at http://www.5Dimes.eu for Americans(Need to register to see lines) and and http://www.Bet365.com for everyone else.
Panthers vs Devils: Devils win in regulation
With little to no hope for the Panthers or Devils of making the playoffs this game could also be a fun one to watch. The Devils are the type of them though that won't accept defeat until it's a for sure thing. So with them 3 points back of the Leafs,who are also on the outside looking in, I expect the Devils to win this game.
The Panthers are also without Luongo so this will only help the Devils cause in this game
Bet the New Jersey Devils to win in regulation at Bovada for Americans and http://www.Bet365.com for everyone else. for 1.76 betting odds
Follow @BetNHL
BetNHL.ca » Tonights Tips »