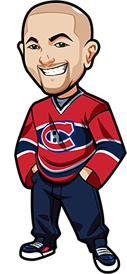 Written by Graeme on Saturday, November 15th, 2014
Follow @BetNHL
Geez – should have just stayed off an extra day! Unfortunately after a good few days we went 0-2 last night. We had the Flyers and hell I said it myself – the Jackets offense has been solid and putting us off. They were so solid that they managed to score 4 against Mason and take the win.
Penguins vs Leafs we had the Over 5.5 goals. There was 71 shots on goal in that game but these two red hot offenses were matched by solid goaltending.
A frustrating tonight. Sorry for the lateness of tips today.
Before we get to the tips – it's time for our regular chat with Sports Interaction.
If you've never read this before – basically we sit down with an online sportsbook, ask them some questions and get THEIR perspective on things. It's pretty cool to hear from the other side.
Tips are below this. Interview was conducted on November 13th. If you have any questions e-mail us them at betnhl.ca@gmail.com or write in the comments and we'll do our best to ask them. There are some asked that we haven't had the chance to yet but will soon.
BetNHL.ca: A lot of people probably don't understand the work that actually goes into setting the odds. Hell – not just setting the odds, but then changing the odds depending on the action that you guys are taken. Who are the hardest teams at the moment to set and manage lines for?
Sports Interaction: At the moment, the Sabres are the hardest team to set the lines for. It's just too hard to get anyone to back the Sabres really. We can't think of a team in recent memory that sees such a lack of action as the Buffalo Sabres.
BetNHL.ca: You get a lot of people backing the Canadian teams, and obviously the Jets, Senators, Flames and Leafs are going to be having quite an impact this season. Where is the action going and who do you see falling off?
Sports Interaction: We feel all of those teams are playing above their heads. If you see one continue to do that for an extended period of time though, you will see the odds quickly reflect that and lose the value peoople have on betting on them. The thing is sharp bettors don't focus on any one team. However what's interesting is due to how much of a public favourite they are, the sharps usually leave the Leafs alone when it comes to betting.
BetNHL.ca: Often we see people back a team who fall under the "loveable underdog" category. They capture the hearts of the fans and the bettors, and they get more action. Anyone falling into that at the moment?
Sports Interaction: The Calgary Flames. They've had a nice run, and last week they were the underdog in all 5 games they played, and won 4 of them. That's a 420% return if betting flat and we expect to continue to see extra action on them at the moment.
BetNHL.ca: How were the prop bets last week? Anything big come in?
Sports Interaction: Nothing really when it came to the Player Props. But we're seeing a LOT of action on the Winnipeg Jets when it comes to futures betting such as divisional winners etc. They're looking really good and Pavelec has been amazing. We've currently got 75-1 on them winning the Stanley Cup and if they continue to play this way, that's pretty damn good value.
BetNHL.ca: We talk a lot to you about puck lines and money lines but a few readers wanted to know about the over/unders. The odds of them are usually a lot fairer for the bettor. Is there any teams who are getting a lot of action in terms of that?
Sports Interaction: So far this season the Panthers are the big one with 9 of 12 games under the total. When it comes to the overs, the Lightning are the team everyone is backing. People can't get enough of the likes of Stamkos and that Lightning front line.
BetNHL.ca: As always – thanks to Sports Interaction and remember to sign up for the free $20 bet at Sports Interaction (Exclusive: $20 Free Bet for Canadians) or for Americans try out Bovada and everyone else Bet365.com.. Let's get to the NHL Betting Tips for November 15th, 2014:
Sabres vs Leafs Betting Tips:
Sorry Sports Interaction – but we're going to have to tip against the Sabres. The only question is Leafs in regulation time at 1.80 odds or Leafs -1.5 at 2.50 odds.
Sabres are getting hammered anywhere – they've had a few close games at home but the Leafs are one of those teams who always play better on the road. We've got to go with the Leafs to return to their scoring and we're going to go with the handicap. Leafs -1.5.
Lightning vs Islanders Betting Tips:
You can usually bet on the Lightning to score the goals. Right now we're seeing teams start to light them up too in terms of shots – they're taking in a lot of shots and if it wasn't for Bishop things would be a lot worse.
Have to go with the all-around offense of the Islanders to contribute tonight and we're taking Over 5.5 goals.
Blue Jackets vs Sharks Betting Tips:
Let's take Over 5.5 here too. We said it last night – Blue Jackets offense is on fire. Doesnt really matter who they play – they're getting goals. Haven't been shut out all season. Rewatched the game between these two from late October – just such a high flying game and intense.
Take Over 5.5.
And take advantage of the free bet at Sports Interaction (Exclusive: $20 Free Bet for Canadians) or for Americans try out Bovada and everyone else Bet365.com.. Have a great night.
Follow @BetNHL
BetNHL.ca » Tonights Tips »