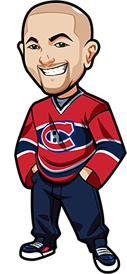 Written by Graeme on Wednesday, November 19th, 2014
Follow @BetNHL
Holy crap is November ever a bizarro month when it comes to hockey.
Me and Scott were talking on the weekend about the last week of results. Just how crazy some of them were etc – not just who wins, but game totals as well. Seeing a hot offense completely disappear overnight – or a goalie go from looking like he's never played before in his life, to playing like Patrick Roy.
Last week was a massive week for the underdogs – but it looks like it's not just last week, as it's continuing this week. The Flames beat the Ducks, and are 1 point off them to lead the Pacific. The FLAMES. Habs go from thrashing the Bruins to getting absolutely deciminated by the Penguins. Buffalo hammer the Sharks 4-1 in a game where they had just 14 shots on goal. That makes it – wait for it – EIGHT GAMES IN A ROW that Buffalo have beat the Sharks.
8.
And then we have Toronto. The Maple Leafs lost to Nashville 9-2 at home in what is one of the saddest things I've ever seen. Following up from that Buffalo result. Ouch. Usually I text my friends who are Leafs fans "Classic Leafs" after any defeat. Couldn't even bring myself to do that last night.
Amazing stuff.
Makes you scared to bet, that's for sure. We went 2-1 last night, but we were laughing at the end of the night and wishing we had a time machine. Imagine we tipped Predators -6 last night? We'd still be talking about that for years to come.
Two games tonight – and they're both tricky. Perfect time to do some daily fantasy hockey over at http://www.FanDuel.com.
Oilers vs Canucks: No tip for this one. Canucks have beat Oilers 3 times this season, but every one is close. Could swing either way for a winner – and we also just have that "feeling" about the Oilers. But 2.15 odds the way they're playing isn't worth it, and 1.74 for Canucks also isn't worth it. Hall being back is great for Oilers, but Vrbata should be 100% as well tonight. Canucks have that 5-0 thumping from the Coyotes in the back of their minds – not sure how they will react there. Stay away from this one or use the $20 free bet from Sports Interaction (Exclusive: $20 Free Bet for Canadians) or for Americans try out Bovada and everyone else Bet365.com. if you must bet.
Rangers vs Flyers: This is always a tight even matchup. Giroux is out for the Flyers which is huge – he's 2nd in points for them. Rangers are slumping hard at the moment though. You have to think Rangers will win – but the way hockey has been it's scaring us from going with a regulation bet etc. Not sure Rangers have value at 1.71 either. If you're looking to bet go with Rangers – we think they'll win, but we can't really see there being value in this game at 1.71.
As we said – skip betting tonight, play fantasy hockey with the two games at http://www.FanDuel.com instead for as low as $1.
Follow @BetNHL
BetNHL.ca » Tonights Tips »