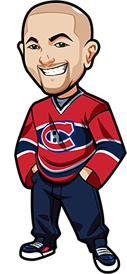 Written by Graeme on Friday, November 21st, 2014
Follow @BetNHL
A 2-1 night, as we continue to tread above water in November. I was looking through some stats last night and realized historically, November is the trickiest month when it comes to the NHL Tips. And based on some of the results of the last week – yeah it will be a nice feeling if we can come out of this month profitable.
The Flyers were the team that stopped us from a perfect night. They went down twice to Minnesota, pulled it back but ultimate lost in a game where they were the better team but just couldn't hit the net enough. We went for the Leafs to bounce back and they did that with a great 5-2 win over Tampa – and the Leafs fans can relax and go back to "future Stanley Cup champions" talk again.
Finally we had the Blackhawks to beat the Flames, and I was texting with my Oilers buddies last night with the theme of the texts "Will the Flames just give up and die". As you can imagine Oilers fans aren't exactly happy at the Flames at the moment. Thankfully, quality prevailed and the Blackhawks got the 4-3 win.
3 games tonight(Buffalo game postponed) – which means it's the perfect night to chat with our friends at the online bookmaker Sports Interaction. This is a regular feature but for new readers – basically we sit down and chat with an online sportsbook, and get their perspective on a lot of matters.
Tips are below this:
BetNHL.ca: One of our readers asked about streaks. Obviously, teams go on both hot streaks and cold streaks. How does that affect the betting odds?
Sports Interaction: There's no one general set rule for "streaks". It depends how long the streak is going for, as well as what the reasons are for that streak. I mean if the Chicago Blackhawks or Pittsburgh Penguins go on a 6-0 run, defeating inferior opposition? That's expected. Nothing really changes.
But if the Buffalo Sabres started picking up, and won 5 in a row? That's different and that's where you'll see line changes. However it's usually the public that dictates it with their betting action. The opening odds rarely change based on a streak – however as soon as the odds are up and people are betting, we're watching the line and will often see a lot more action on a team like Buffalo on a winning streak, and act accordingly. The line swings for them can be big as you will get a lot of people piling on.
BetNHL.ca: Speaking of streaks – prior to last night, the Leafs were on a 3 in a row losing run, including two horrendous blowouts. You guys obviously get the most action on the Leafs – how has that changed after the last couple of games?
Sports Interaction: Regardless of how the Leafs are playing – you'll always see a lot of loyal support that pours over into the betting action. It's not the "Centre of the Hockey Universe" for nothing. Like we talked about recently – you'll still see our lines affected by the amount of betting Toronto fans are doing on the Leafs, regardless of their current performances.
However a lot of it is the usual media buzz that people need to block out – and good move on doing that yesterday, tipping the Leafs over the Lightning. Leafs are above .500 and 1 point behind the Chicago Blackhawks – not exactly the crisis the media are making out it is.
BetNHL.ca: What NHL team has been getting the most action this week?
Sports Interaction: The Calgary Flames, no surprise. Prior to last night they were 7-3-1 in 10, with a 3 in a row streak. What's impressive is in those 10 games they were favoured just 3 times. Flames are getting a lot of action and making a lot of people money. While we don't think they can keep up the pace – if their goaltending stays strong, they'll be a smart bet all season for the puck line.
This is the type of team that the sharps love – your strong underdog team that will keep every game close, and it doesn't matter who the opposition is – they just don't back down, as Chicago saw last night.
BetNHL.ca: Who is losing money for bettors this season?
Sports Interaction: Without a shadow of a doubt, the Dallas Stars. Everyone expected them to just destroy the West when Spezza and Hemsky came in. It's just not happening so far.
They go into many games as favourites purely based on who is in their team – it's that situation where the names on the jersey matter more than how the team is actually performing at the moment. You see lots of action from people simply thinking "Benn, Seguin and Spezza – yep I'm betting them". Dallas are currently 6-13 on the puckline and if you were straight betting you'd be down 12.42 units right now.
While there's no team that bettors should ever stay away from(as Buffalo have shown in the past week) – the Stars are fairly close to that at the moment, as they are much worse than the public perception.
BetNHL.ca: Thanks as always to Sports Interaction. For our Canadian readers – you have exactly 9 days to take advantage of the $20 Free Bet at Sports Interaction so go now.
Now onto the tips.
Penguins vs Islanders Betting Tips:
An interesting game that isn't as straightforward as it seems. Penguins are missing Dupuis of course, and Grabner is rumoured to be back for the Islanders.
These two teams played in mid-October. Penguins won that one 3-1 but it could have been different. Penguins had 4 powerplays and converted on 2 of them, while the Islanders had 7 whopping power plays but the Penguins PK unit managed to shut them out every time.
Despite all that – we still consider the Penguins a favourite. Not by much – but getting 2.00 odds on a Penguins win in regulation, we have to take it. Bet Penguins in regulation at Sports Interaction (Exclusive: $20 Free Bet for Canadians) or for Americans try out Bovada and everyone else Bet365.com..
Oilers vs Devils Betting Tips:
We're going to roll with Edmonton tonight. They've lost their last 4 by 1 goal and they're going to be hungry. They also have a solid record against the East.
Devils offense is struggling at the moment. It's the perfect opportunity for Oilers to take some pressure off.
Bet Oilers in regulation at 2.50 odds.
Jackets vs Bruins: We have no official tip for this game. Personally we'd lean towards Jackets picking up their first win over the Bruins since January 2010, but the odds of 2.20 are just not worth it. Even in regulation at 2.80 based on the last couple of games aren't worth it. Just mentioning this as we know a bunch of you still bet at Pro Line or Sport Select and need to bet 3 games. But please – stop that and bet at Sports Interaction (Exclusive: $20 Free Bet for Canadians) or for Americans try out Bovada and everyone else Bet365.com. for much better odds.
Player Prop: Sidney Crosby
Crosby has a great record against the Islanders, and we're going to go with him as Anytime Goalscorer tonight at 2.60 odds. This is a bet you can make at Sports Interaction. Unfortunately there are quite a few countries(ie: the USA) that can't bet at Sports Interaction.
Follow @BetNHL
BetNHL.ca » Tonights Tips »