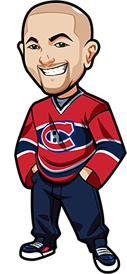 Written by Graeme on Saturday, November 21st, 2015
Follow @BetNHL
It was a profitable night of hockey. We went 1-1 in the NHL for a slight profit. Hopefully you followed our instructions and signed up/bet at BetOnline. because that would mean an 0.19 unit profit, as opposed to just 0.05 or similar elsewhere.
If you're an American – be sure to get an account at BetOnline. as they have the best odds for all FIVE of our tips today.
If you followed us on the OHL, it was a 2-0 win there for 1.43 unit profit.
Today is Saturday, November 21st 2015 and we've got a busy Saturday of hockey.
No early games today. Sort of annoying as I like being able to watch hockey during the day – but also means we don't have to rush the tips out to meet our deadline.
We've added a new sportsbook to our odds comparison line. I've been using them for over a year now, and am comfortable recommending them now.
That sportsbook is Guts.
They have a 100% to $100 deposit bonus so if you deposit $100 you have $200 to bet with.
Here are the countries that can NOT bet at Guts:
The United States of America, France, Denmark, Belgium, Germany, Spain, Ireland, Italy, Turkey, Hong Kong, Afghanistan, Ethiopia, Iran, Iraq, Jordan, Kuwait, Pakistan, South Africa, Syria, Singapore, Nigeria and Yemen
The following countries can sign up but will NOT get the bonus:
Poland, Bulgaria, Greece, France, Hungary, Romania, Croatia, Ukraine, India, Pakistan, Indonesia, Russia, Czech Republic, Portugal, Slovakia, Latvia, and Thailand.
Everyone else – get that $100 bonus now.
Let's get to the NHL Tips for Saturday, November 21st 2015:
Bruins vs Leafs Betting Tips:
The Leafs are playing some solid hockey, and they almost look like a new team since Reimer has returned – but I just can't see them winning here.
These two teams normally have really close battles. I just think Leafs are going to be tired after playing last night, and the Bruins will pick up their first back to back victory since November.
If my reasoning is correct – then that means Bruins should do it convincingly so I'll be taking Bruins in Regulation.
Canada: 1.81 Odds at Guts.
USA: -124 Odds at 5Dimes.
Everyone Else: 1.81 Odds at Guts.
Flyers vs Senators Bettings Tips:
The Flyers offense is beyond woeful at the moment. Defensively they're getting a bit better – especially when it comes to penalty killing. The last 3 matchups between these teams have been 4 goals or less.
The Sens offense has been fairly solid in the last little while and they DO have Ryan back it looks like.
I believe if the Sens take this, they take it in a low scoring game in regulation. So going to take both Under 5.5 goals and also Senators in regulation.
Sens in Regulation:
Canada: 2.17 Odds at Pinnacle Sports.
USA: +110 Odds at 5Dimes.
Everyone Else: 2.17 Odds at Pinnacle Sports.
Under 5.5 Goals:
Canada: 1.75 Odds at 888 Sports.
USA: -135 Odds at 5Dimes.
Everyone Else: 1.75 Odds at 888 Sports.
Rangers vs Panthers Betting Tips:
The Rangers lost for the first time in forever 2 days ago against the Tampa Bay Lightning.
We like them to bounce back against a Florida Panthers team who they have beaten 6 games straight.
We're not fully convinced on the Rangers road performances. That's why we didn't tip them against the Lightning for example. We looked at the games they had played on the road and the teams they had played and weren't fully convinced by what we saw.
We do like them to come out firing here though and the odds convinced us this is a play against a Florida team who are very shaky at home. Rangers to win.
Canada: 1.75 Odds at Pinnacle Sports.
USA: -130 Odds at 5Dimes.
Everyone Else: 1.75 Odds at Pinnacle Sports.
Stars vs Sabres Betting Tips:
This is one where we can"t put too much thought into it. Stars are on a roll, and also recently beat Buffalo on the road 3-1.
Sabres are a feisty team but this is a game the Stars really should be winning. They've got a few issues with illness apparently. But I'm not seeing anything huge on the injury reports and we have to take Stars in regulation.
Canada: 1.80 Odds at William Hill.
USA: -129 Odds at 5Dimes.
Everyone Else: 1.80 Odds at William Hill.
OHL Betting Tips:
We went 2-0 yesterday with the OHL Betting Tips. We had the Peterborough Petes to win and they did just that – an overtime 6-5 victory against Sudbury. And we had Owen Sound/Sarna to go Under 6.5 goals and that happened with ease – Sarnia winning 1-0.
There are no betting tips today in the OHL. The system likes Kitchener, Ottawa and Erie but the odds aren't there.
Take this time to sign up for a sportsbook that offers OHL Betting so you can make money with us! Your options are:
Canadians: Bodog and 888 Sports.
Americans: Bovada.
Everyone Else: 888 Sports.
Follow @BetNHL
BetNHL.ca » Tonights Tips »