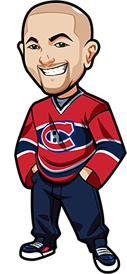 Written by Graeme on Sunday, November 23rd, 2014
Follow @BetNHL
A disappointing 1-2 with the game tips yesterday.
We had the Kings to beat the Stars. That was a rather bizarro world game with the Stars taking a 4-0 lead, then the Kings coming back before the Stars won 5-4. Kings pounded the net including 16 shots in the 3rd period but just could not get the puck in the net enough.
We had Habs vs Bruins Over 5 but Price picked up massive shutout. That was Prices 2nd shutout of the season, and I believe his first ever against the Bruins during the regular season. Unfortunately that's what happens sometimes when we go with an Over involving one of the top goaltenders. Pity as just 1 Bruins goal would have really opened that game up.
Our win was the Over 5.5 goals in Blackhawks vs Oilers. Chicago got us that on their own. Man – must be really hard to be an Oilers fan at the moment. Probably harder when my friends were at last nights game and I'm busy texting them "FLAMES TIED IT UP!".
One quick website I wanted to mention today – hockeystreams.com. If you're looking to stream hockey(and pay for it) then I'd highly recommend them.
I'd heard about them a lot during the off season as an alternative to NHL Gamecenter. I haven't been happy with Gamecenter recently so I decided to give them a whirl. I've been more than impressed. A few of the features:
– No out of market games. So you can watch EVERY game.
– $100 for 12 months. You can even "freeze" your account. Meaning during the off-season you can freeze it for a few months and so it stops your membership timer ticking down.
– Less delays. Gamecenter I believe has about a 40 second delay. With the games on hockeystreams, the longest delay I've experienced has been 25 seconds and some are right up there practically live.
– Excellent quality.
– Ability to go back and watch, and watch highlights etc.
– Covers more than NHL. AHL, OHL and tons more.
It also works with practically every device. Been watching it on my XBox One but it's got a nice android app too which is fast etc and awesome quality. Nice if popping out for a smoke or the wife is wanting to watch TV – just throw the game on the app.
Anyway just thought I'd mention it. There's an invite system the website uses – so you have to give them your e-mail address then wait for an invite. I got a friend to sign up just last week and he said it took about 15 hours to get invited in so pretty darn good.
Alright 4 games tonight, let's see what we have:
Canadiens vs Rangers Betting Tips:
The goal line for this one is set at 5 – never a fan of that, but we're getting a good price of 2.15.
These two teams usually h ave tight games. Habs won earlier this season 3-1. The last time these two teams played in the regular season and it went over 5 goals was in 2011.
Tokarski is in goal for the Habs which is the only concern – always would rather have Price. But he's been solid so far this season with only 1.78 goals against and a strong save percentage.
Take Under 5 goals at Sports Interaction (Exclusive: $20 Free Bet for Canadians) or for Americans try out Bovada and everyone else Bet365.com.. A lot of people seem unaware so just to clarify – if it hits exactly 5 goals, we neither lose or win money. It's called a push, and we get our bet back.
Canucks vs Blackhawks Betting Tips:
Daniel Sedin shall play his 1000th game tonight in the NHL, and we like him to cap it off with a victory. Canucks are rested and at home going up against the Blackhawks. Granted it was technically a rest night last night for the Hawks – but it's been a tough schedule for the Hawks and this will be one game too many we think.
Canucks 2.05 to win seals the deal.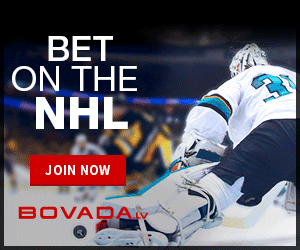 Follow @BetNHL
BetNHL.ca » Tonights Tips »