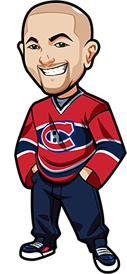 Written by Graeme on Friday, November 27th, 2015
Follow @BetNHL
It was a nice day of football yesterday – although it was a pity the first two games were blowouts. I ended up skipping the 4th quarter of both and playing Fallout 4 instead. Think I'm almost at the 48 hour mark for that game. Yikes.
We've got a busy day in hockey today and it all kicks off at lunchtime with the NHL Thanksgiving Showdown – Bruins vs Rangers. It should be a very good game as the Bruins got off to that horrible start but have turned things around big time.
There's hockey all day long and a lot of selections which is great. I wish all days could be like this.
Bruins vs Rangers Betting Tips:
The New York Rangers go into this one off the back of a humiliating defeat to the Montreal Canadiens. The Bruins have a nice run going.
I've never been convinced with the Rangers on the road. I've said it a few times during the last few weeks when tipping them or not tipping them – I felt they hadn't beaten any of the top tier teams. And although Bruins have had their struggles – when they play their game I feel they're in that tier.
Bruins to win.
Canada: 1.91 Odds at 888 Sports.
USA: -110 Odds at 5Dimes.
Everyone Else: 1.91 Odds at 888 Sports.
Flyers vs Predators Betting Tips:
I've really grown to hate the Under 5 line in hockey. So many times it feels like you're rooting for a push more often than not. And there's been a LOT of lines set at 5 this season which is annoying. If this one loses or pushes I'm going to spend the weekend diving into those stats a lot more.
Anyway – Flyers offense still can't get going. I have an eerie feeling they might win here but despite Nashvilles recent woes they're still a lot better team and I think will back that up with a win today. Either way – both teams have offensive woes and so many games have been low scoring.
For those who follow trends – I should note that these teams haven't went Under 5 when playing each other in over a decade. But it's hard to really compare the 2006 Flyers team to the team that's showing up right now ya know?
Take Under 5 goals.
Canada: 2.10 Odds at Pinnacle Sports.
USA: +110 Odds at 5Dimes.
Everyone Else: 2.10 Odds at Pinnacle Sports.
Wild vs Jets Betting Tips:
Last two games between these teams has been high scoring. Both have a lot of players who can hit the net – and Parise may be back as well. Jets may be starting Hellebuyck although I've always found that's an overrated factor. If anything with a rookie in net the team will tighten down so he doesn't get pressured as much.
Jets are a feisty team on the road always fighting even when they lose. Wild are good for over 3 goals a game at home on average and this looks like an Over 5.5 goals type of game.
Canada: 2.16 Odds at 5Dimes.
USA: +116 Odds at 5Dimes.
Everyone Else: 2.16 Odds at 5Dimes.
Lightning vs Capitals Betting Tips:
The Tampa Bay Lightning offense has been disappointing lately. The Capitals offense seems to run very hot and cold.
Honestly – I was hoping the line would be 5.5 and I'd stay away. But it's set at 5 with some juicy odds featuring some of the top offensive players in the NHL. On top of that 9 of the last 10 games they've played have had at least 6 goals with a coule reaching double figures.
Over 5 Goals.
Canada: 1.88 Odds at 888 Sports.
USA: -120 Odds at 5Dimes.
Everyone Else: 1.88 Odds at 888 Sports.
Wings vs Oilers Betting Tips:
Oilers are hurting badly. They beat the Wings last time out with a goal by McDavid and 2 assists by Yak. Both are out injured.
Red Wings have had trouble in regulation lately with 4 of the last 5 going to overtime. But you're talking about games against the Bruins, Blues, Kings, Capitals and Senators – all a cut above the Oilers.
Have to go with Red Wings in regulation.
Canada: 2.00 Odds at William Hill.
USA: -101 Odds at 5Dimes.
Everyone Else: 2.00 Odds at William Hill.
Other Game Thoughts:
I know you guys like to ask our thoughts in the comments but I'm going to be out all day today. Here are a few other game thoughts and I'll try and answer any questions later tonight.
In Habs vs Devils, I think Condon needed a break and now he has it he'll be back and on fire. Game should be all Habs. In saying that it's still a scary variable, Habs are favoured and Devils beat them last time. On top of that – Devils have home wins against the Penguins and Blackhawks. Skipping that.
I like Sabres to end their run and win. I can't back it up enough to justify it especially with the odds floating around 1.80. There's a lot of things I like about the Hurricanes and I think we'll see them come into theor own soon.
On paper and looking at the stats – a Jackets win seems the way to go over the Penguins. But I watched the full Penguins-Blues game and there was something about the Penguins – they looked to be playing more free flowing hockey and had some life to them so that's scared me off. Despite all the stats saying otherwise I'd go with the Pens here.
OHL Betting Tips:
Going to take Under 6.5 Goals at 1.90 ods in Windsor Spitfires vs Saginaw Spirits. It's a game Windsor should be winning and quite easily. However they've struggled a bit and while Saginaw are getting hammered – I'm hoping we don't see a repeat of the 7-1 victory Windsor had back in October. Windsor are well rested but their offense has been stutterling lately with the last 4 games being low scoring and I'm hoping that trend continues.
You can bet the OHL at:
Canadians: Bodog and 888 Sports.
Americans: Bovada.
Everyone Else: 888 Sports.
Follow @BetNHL
BetNHL.ca » Tonights Tips »